POPE'S DOCTRINE: March is about much more than just basketball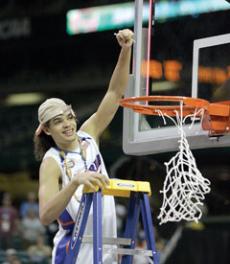 MCT Campus
February 29 was incredibly exciting for me; not just because Black History Month was extended a day thanks to leap year, but also because my favorite month, March, was right around the corner.Most people choose December or one of the summer months as their favorite, but March really carries special meaning for me.First of all, you've got March Madness, and this year is my chance at redemption in The Daily Aztec pool. You see, last year as a young, na've contributor, I became the laughing stock of the office for picking a Mountain West Conference team to make the Final Four. Worse yet, it turns out Colorado State wasn't even in the tournament. But that's all going to change this year because I have CSU Northridge as my sleeper pick.On a related note, there's also March Mustache Madness. For those of you who don't know, MMM is that special time of year when friends come together to form a sacred pact: a pledge to not shave their upper lip for one month, under any circumstance.It's a bit more complicated this year because I already swore that I wouldn't shave anywhere on my face until I scored a goal on my intramural soccer team.Unfortunately I only play defense, and the good Lord did not bless me with quality facial hair-growing skills. So until April, I'm stuck with Larry Bird's mustache and Pau Gasol's beard. In other words, with my normally suave appearance tarnished by inconsistent peach-fuzz, I'll have to step up my game with the ladies (I usually just mention that I write for The Daily Aztec and that "Yes, as a matter of fact I can get you Devin Kunysz's autograph"). But the real highlight of March falls right in the middle of the month: St. Patrick's Day, or as I like to call it, a college student's Christmas.Who doesn't look forward to St. Patty's Eve? Lying in bed, unable to sleep because you're too busy thinking about everything the morning will bring: green beer, Irish Car Bombs, socially acceptable pinching – what's not to love?And much like Christmas' egg nog, St. Patty's day has Guinness, which is remarkably similar. When the holiday approaches you can't wait to get hold of some and chug it down, but later that night you remember why you only drink it once a year. Unlike Guinness, too much egg nog rarely makes you wake up the next morning in an alley off Montezuma Road next to a set of bagpipes and some dude named Molly, but 'tis the reason for the season right?And if that wasn't enough, to top it off Michael Caine, MC Hammer and Fabio were all born in March. How could you not want to go to a party with those three guys?If all of that still doesn't convince you, it's alright; after all, there are just 31 days until April Algae Anarchy (if you don't know what that is, it's probably best to keep it that way).
-David Pope is an English sophomore who wonders why Molly never called him back.
-This article does not necessarily reflect the opinion of The Daily Aztec.