SHANNON'S SHOUTOUT: Why is this gunslinger moseying along now?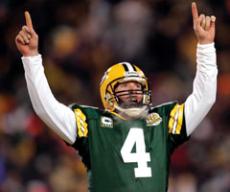 MCT Campus
After 17 years, three MVPs and a Super Bowl ring, Brett Favre is hanging up his cleats.And you can't blame the guy. He leaves the game as one of the top quarterbacks to ever play his sport.But his retirement leaves just one question: Why now?For years, Favre has flirted with walking away from football. At the end of every season he played with our minds and makes it sound like he's ready to retire. Sometimes it took weeks, sometimes it took months, but he always came back.It didn't matter if Green Bay was winning, either. In 2005, he came back from a 4-12 season. The next year, his team played just .500 football.Every time, his desire to compete drove him back to the field. So why would he leave now? Why would he walk away from a 13-3 team? Why would he make his last pass in the NFL an overtime interception, with a chance to go to the Super Bowl on the line?Yesterday, Favre said he was tired. He said that mentally, he wasn't up for the challenge of another Super Bowl.That's understandable. After all, it's extremely tough to win a Super Bowl. But that has always been the case, especially when the Packers were the laughingstock of the league. Something must have changed for Favre to walk away from his best chance at a ring since the late 90s.Then I realized something. Favre already has a ring. He already has MVPs. He already has the city of Green Bay wrapped around his finger.But there is one thing Favre has never had. He has never controlled the record booksntil this season, when Favre surpassed Dan Marino in career passing touchdowns and yards. He also overtook John Elway as the winningest quarterback in NFL history.With 442 TDs, 61,655 yards and 160 wins, Favre finally had it all. Other than the thrill of competing, there was nothing else for him on the football field.But this is Brett Favre and he can't possibly be that selfish, can he? There's no way his reason for coming back every year was to leave his mark in the record books, right?We may never know his actual intentions, but it wouldn't be that surprising. This is the same Favre that made his organization collectively hold their breath every offseason. This is also the same Favre that made his team draft their "QB of the future" three years ago because they thought he could walk away at any moment.Every season we fall in love with Favre's spirit and desire to compete. And every offseason, Favre tiptoes around his future, making life difficult for his team.Favre had an amazing career, and we should remember him as one of the all-time greats. However, he did abandon a team that was one play away from the Super Bowl last season. We can hope that during that run Favre was more concerned with a team victory than personal records, but judging from yesterday's announcement, I'm not sure he was.
– Eric Shannon is a journalism senior.- This column does not necessarily reflect the opinion of The Daily Aztec.