WOMEN'S BASKETBALL: Cowgirls upset streaking Aztecs in Laramie
by Staff
February 16, 2009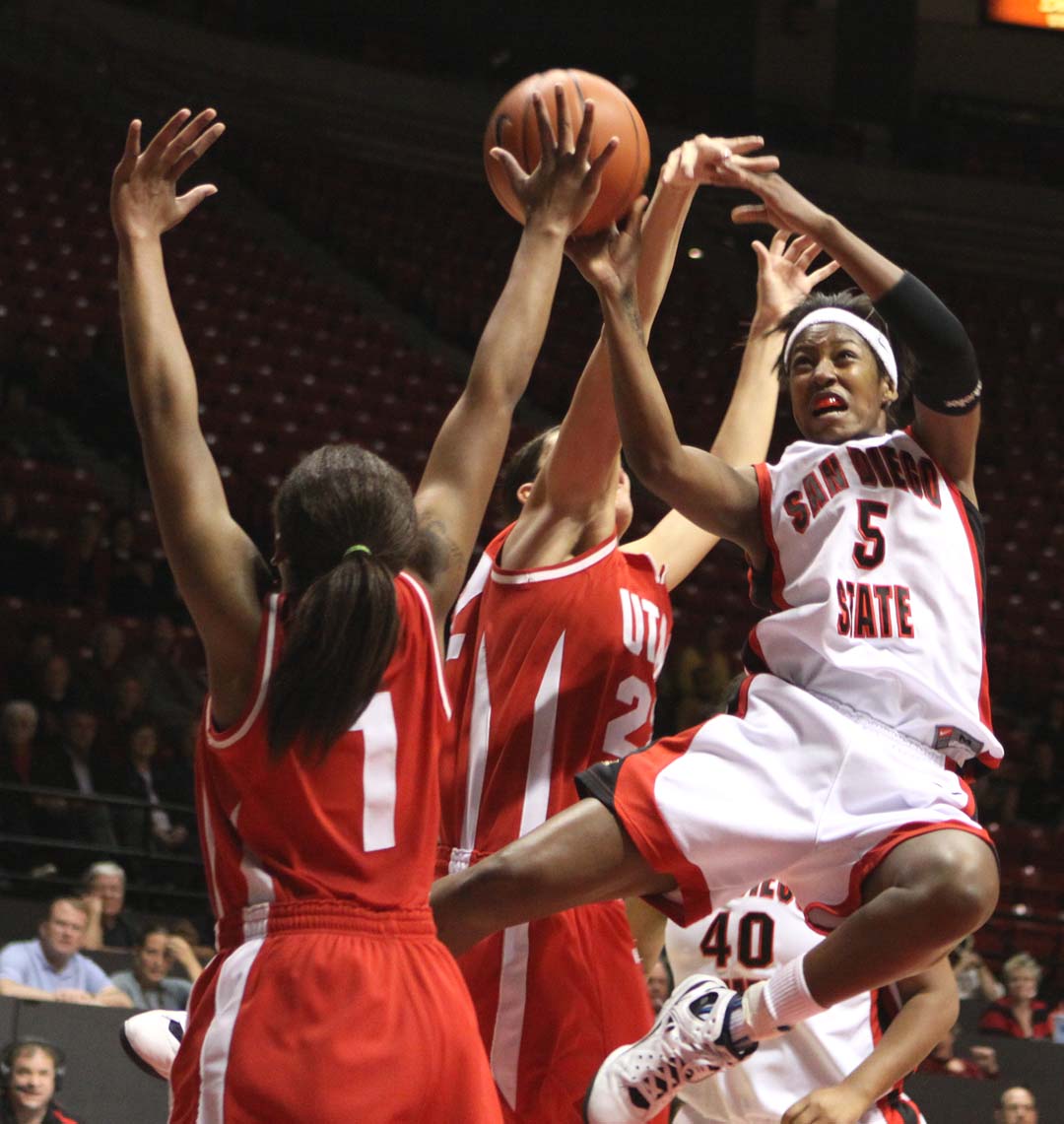 David J. Olender / Photo Editor
While the box score rarely tells the whole story, in the case of the San Diego State women's basketball team's game against Wyoming on Sunday, the statistics say enough.
In a 64-61 loss to the Cowgirls in Laramie, Wyo., SDSU was absolutely crushed in terms of rebounds (44-25) and free throw attempts (29-9).
"(This was) very disappointing," head coach Beth Burns said to Chris Ello of www.goaztecs.com after the game. "It was a very winnable game. It was a guts game and today we didn't have enough."
The loss breaks a four-game winning streak for the Aztecs (17-6, 8-3 in Mountain West Conference play), who haven't won in Laramie, Wyo., since January of 1997.
Wyoming (12-11, 4-6) only had two players score in double-figures, but one of those players, forward Hillary Carlson, did enough to lead her team to victory.
Carlson scored 18 points, shooting perfectly from the free-throw line (8-8) as well as beyond the arc (2-2). She also recorded two blocks and tied for a game-high nine rebounds.
"It takes all of us to win, and we have to accept the blame when we lose," Burns said to www.goaztecs.com. "But the better big on the floor was Hillary Carlson tonight, and we just backed down and put them on free-throw line too much and just refused to beat them off the glass."
SDSU's sophomore center Paris Johnson had 15 points, six rebounds and six blocks, but found herself in foul trouble early. Meanwhile, junior guard Jené Morris had 13 points but shot just 5-of-17 from the field, including 1-for-6 from 3-point range.
Despite getting soundly beaten off the boards, the Aztecs came up with extra possessions because of their knack for creating turnovers. SDSU had 14 steals compared to the Cowgirls' five as Johnson and junior guard Quenese Davis combined for nine steals with four and five, respectively.
While the Aztecs' quickness helped to remedy their rebounding woes, nothing could counteract the free throw discrepancy.
In a game that came down to three points, Wyoming scored 19 more points at the charity stripe than SDSU. The Cowgirls, who were in the single-bonus, were at the line 20 times more than the Aztecs. But even when SDSU did get there, it hit on fewer than half of its attempts, going 4-for-9 (.444).
The Aztecs, who were coming off a statement-home victory against MWC-leading Utah, now find themselves, once again, two games back of the first place Utes, tied for second with TCU.
Though the race for the regular season MWC crown may be a bit out of reach, the competition for the valuable second seed in the MWC Tournament will be a heated one. TCU currently holds the tie-breaker against SDSU, edging the Aztecs out at home last month, but still has to face a rematch at Cox Arena next week, where SDSU is a perfect 12-0 this season.
Before that though, the Aztecs will get the next few days off because of their bye tomorrow before taking on New Mexico at home on Saturday.