Ailing Aztecs' loss is painful
by Staff
December 13, 2004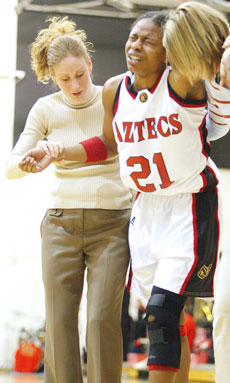 Derrick Tuskan
Down 51-50 with 1:44 left in the San Diego State women's basketball team's game against Washington State Saturday night, guard Veronica Shaw jumped for a loose rebound and landed awkwardly.
The junior pounded the floor with her fist, biting her shirt to keep from screaming because of the pain she felt in her bothersome left knee. She then limped off the court.
Remarkably, Shaw checked back into the game 54 seconds later.
But with her team down 53-50 and the ball in WSU's possession, she fouled out with 32 seconds left, and Cougar guard Charmaine Jones made two free throws to produce what would be the final 55-50 score in SDSU's (2-3) heartbreaking loss to WSU (4-3) at Peterson Gym.
"We only have nine players," Shaw said, stating the team's dire situation of having three players out due to injuries, including starting sophomore guards Courtney Fritz (for the season) and Michelle Elliott (for two to three weeks). "We can't afford to lose anyone else. That's just what I had to do."
Shaw's box score statistics – seven points on three-for-11 shooting, six rebounds, two steals and two blocks – don't jump out, but it was her hustle and defensive tenacity that kept the Aztecs close until the final minute. Neither team took a lead bigger than three points from the start of the second half until the 2:26 mark when a WSU layup gave the Cougars a four-point lead, 51-47. In a game that included 10 different lead changes in the second half, head coach Jim Tomey was able to look at his team knowing it battled all the way through.
"I'm proud of their effort," Tomey said. "I'm disappointed we didn't win, but you can't ask your team to play any harder."
Tomey pointed to the Aztecs' one-for-17 3-point shooting performance as the area that may have been the downfall in an otherwise great statistical night. SDSU out-rebounded its opponent for the first time this season, 41-35. The Aztecs also had more assists (13-9), blocks (4-0), steals (9-6) and shot better from the floor – 34.5 percent to the Cougar's 33.3.
Freshman forward Ashley Cheesman recorded her first career double-double with 15 points and 11 rebounds. Thirteen of those points came in the first half, which ended with SDSU leading 26-23 and looking as if the Aztecs weren't playing without arguably two of their best players in Elliott and Fritz.