MEN'S BASKETBALL: Wichita State fails to ?shock? red-hot SDSU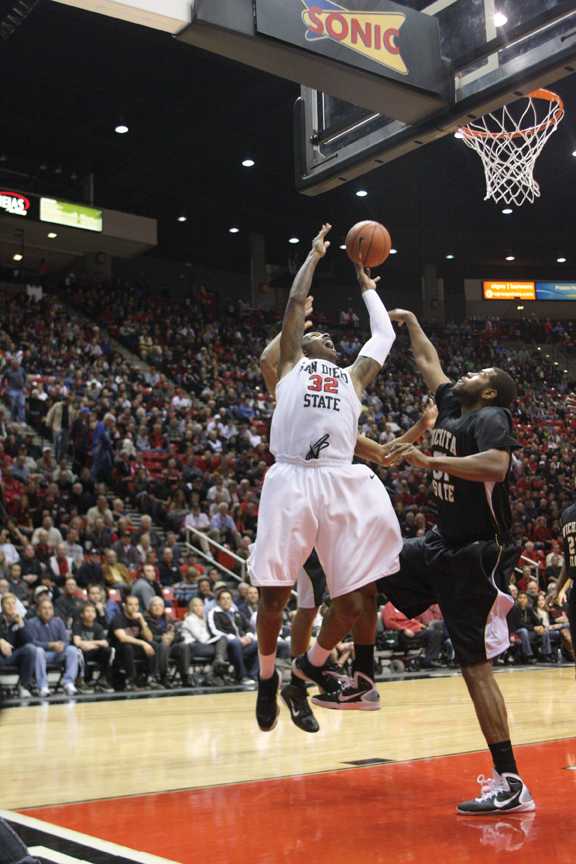 Peter Kluch / Staff Photographer
Before the tipoff of Saturday's game against Wichita State, San Diego State head coach Steve Fisher didn't tell his team to be careful of an upset-minded WSU. He didn't say the Shockers would be a tougher test than St. Mary's was last Wednesday, or that a win would give No. 17 SDSU only the third 8-0 record in school history.
"I told our team right before we went out for the game that I took a moment to look around at the crowd," Fisher said. "(It was the) first time I've done this … and I told our players to do the same. I told them: You are the reason this is like it is."
After the 83-69 win against WSU (5-2) at a standing-room-only Viejas Arena, what "this is" is 8-0. No. 17 in the country and rising. Unbeaten.
But for most of the game, the competition was much closer than the final score shows. The Aztecs held a slim 37-36 lead at halftime in a first period that saw seven ties and 14 lead changes. The Shockers, led by David Kyles' 11 first-half points, shot 54.5 percent from long distance and didn't let SDSU go up by more than seven points.
"(WSU) came out with no fear," senior point guard D.J. Gay said. "Us being ranked and 7-0, that meant nothing to them. We knew that was going to happen. They matched us in the first half. It took us a while to adjust to their play. We came out in the second half and made them play our game, which sparked our runs."
The run Gay was referring to was the game-breaking 21-3 barrage spanning 4:01 midway through the second period that put the Aztecs up for good. Senior forward Billy White, who scored 11 points in the run (and a game-high 24 overall) said SDSU "slowed it down a bit and started playing San Diego State defense."
The Shockers, however, made a run of their own and found themselves down by seven with 1:48 left to play. But after a White layup, some missed shots by WSU and a trey by Gay, the Aztecs were able to cruise to the comfortable victory.
Super sophomore Kawhi Leonard, who reportedly threw up during the game because of flu-like symptoms, notched his 23rd career double-double. Leonard finished with 16 points, 12 rebounds, five assists and four steals in his all-around effort.
Even in defeat, Shockers' head coach Gregg Marshall gushed about SDSU's talent and potential.
"I've seen a lot of good basketball teams, and that's a team that I think is going to finally win in the NCAA tournament and should win multiple games," Marshall said. I like their team a lot … They beat us in transition. They beat us on the boards. They were quicker with the ball. They were tougher with the ball … They're dynamite."