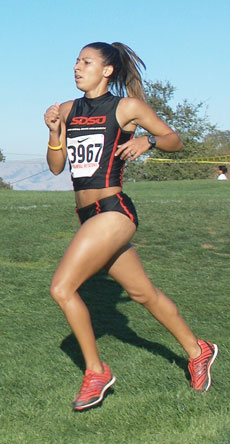 Courtesy Photo
When building anything, it's important to start with a good foundation. This season, the San Diego State cross country team faced the difficult task of rebuilding. As with any rebuilding process, the team took its lumps, but hopes are high on Montezuma Mesa for the future.
To say expectations for this year's team were low would be an understatement. The Aztecs entered the season with the difficult task of replacing five of their top runners from last season, including standout Marie Nilsson.
To make matters worse, they had to start the season without three of their top returning athletes, including junior team captain Christal Cuadra, who missed the first part of the season because of a leg injury.
"I felt like the worst part of this season was the persistent injuries," assistant coach Jennifer Nanista said. "That was definitely the low point of our season."
The injury bug merely highlighted the lack of depth on the SDSU roster. With the exception of Cuadra, the rest of the Aztecs' top runners were all underclassmen.
The lack of depth was made painfully obvious as the team faced off against the elite teams in the nation at the Stanford Invitational and finished a dismal 16th. The team continued to finish near the bottom of the standings all season, with the lone exception of a third-place finish at the UNLV Invitational.
In competition with its Mountain West Conference rivals, SDSU was further manhandled, finishing seventh overall in the league.
With the Aztecs' inability to compete as a team against the powerful MWC teams, the focus for the team was to improve. Although bright moments were often few and far between, there were definite glimmers of potential that give the team hope for next season.
Injuries opened the door for the younger runners on the team, giving them the chance to shine. Sophomores Sara Cates, Ali Baker, Celeste Tyson and Christian Fairing all placed in the top five consistently, and freshman Brookie Detterman had a stellar opening campaign.
"We definitely saw a lot of good things from the younger runners on our team, they really stepped up to fill the void when we needed them," Nanista said.
The high point of the Aztecs' season may have come at the conference championship meet, even though they finished seventh out of eight teams. At the conference meet, Cuadra finished a team-high 14th – good enough to make second-team all-conference.
The team's lone top-three finish was also impressive, finishing third at the UNLV Invitational, and beating out conference rival UNLV. The victory solidified SDSU's place ahead of the Rebels in the MWC.
Although the team didn't win a single race, there were a lot of things were worthy of praise if you ask the coaching staff.
"I was pleased with the way we went out and competed in every race, and I felt like it gave us a great base to go off in the future," Nanista said. "We may not have won, but we gained a lot of experience, and that's what was important for this year."