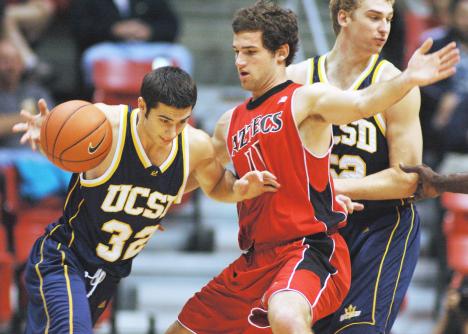 Chuk Gawlik / Staff Photographer
After a heartbreaking eight-point overtime loss to UC Santa Barbara Nov. 19 at Cox Arena, the San Diego State men's basketball team couldn't wait to get the Gauchos back on the court.
SDSU will get its second chance 3 p.m. Saturday, this time 218 miles north in the unpleasant confines of UCSB's Thunderdome.
"We were hoping to play (the Gauchos) the Sunday after they beat us," head coach Steve Fisher said. "The game could not come sooner for us. My only wish is that we were playing them at home."
The Aztecs (3-1) were defeated, 80-72, by the Gauchos (3-3), starting SDSU's season on a bad note – and leaving the Aztecs with a bitter taste in their mouth.
The game saw SDSU down by deficits of 10 points in the first and second halves. Still, the Aztecs managed to claw their way back, thanks to sophomore forward Marcus Slaughter's 28 points. Slaughter didn't touch the ball in the extra period, and SDSU's 44 percent shooting in the first half and 35.5 percent in the second half never put the team in a good position to win.
More important for the Aztecs is the re-match against UCSB, SDSU's road opener, will be the first opportunity to prove it can win away from Cox Arena – something it has had trouble with in the past.
"A lot of people say we can't win on the road," sophomore guard Brandon Heath said. "I'm eager to play on the road and get some revenge because I feel like it's a game we should have won."
The Gauchos played the last game without two starters and four key players, but other role players stepped up and provided a boost. UCSB forward Josh Davis – who earned the Big West Conference's player of the week award after his performance against the Aztecs – hit seven of 10 shots, sinking four of five treys.
The injury bug – which bit the Gauchos in the first game – is now even. SDSU Senior forward Chris Walton hasn't played in two games and is highly doubtful for Saturday. This time around UCSB will have the services of forward Cameron Goettsche, who is the team's leading rebounder.
SDSU will count on the continued productive play of Slaughter to lead the way to victory. Senior center Chris Manker has blossomed as of late and will need to be close to his 16.3 points per game average for the Aztecs to hang on.
SDSU would rather not have such a scare this time, and will try to stifle the Gauchos early.
"We are trying hard to get going from the start," junior guard John Sharper said. "I think with time, we'll get to the point where we'll start getting big leads in the first half and get big wins."