Holidays are fair game for 'Harold & Kumar'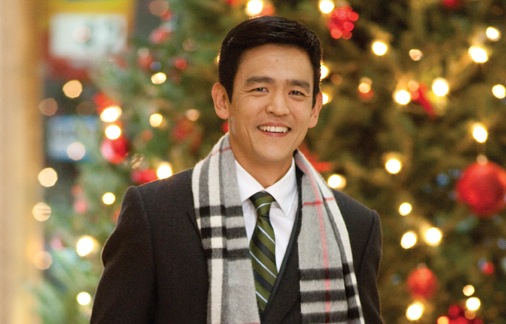 John Cho is best known as an alien-fighting helmsman of the starship enterprise in J.J. Abrams' "Star Trek," a perverted high school student who popularized the expression "milf" in "American Pie" and a surprisingly smart stoner with a good heart in the "Harold & Kumar" series. A kind man with a deadpan sense of humor, Cho came to KPBS San Diego to promote his new movie, "A Very Harold & Kumar 3-D Christmas."
The Daily Aztec: You have worked with actors such as Kal Penn and Neil Patrick Harris several times now. Are you friends with any of the actors from the "Harold and Kumar" series?
John Cho:  No, no, no … I'm kidding. I've seen almost all of them socially. Kal and I are close. He and I share a very special bond, which is being in this franchise together. There are only two guys who know how to play Harold and Kumar. There are so many things we can relate to about each other's lives. I also grew tight with Tom Lennon who plays my new best friend in the movie.
DA: In your most famous roles, you have fought Romulans, been bitten by a raccoon and rode a cheetah. How often do you do your own stunts and are you a daredevil in real life?
JC: I'm not a daredevil in real life. For a promo for "Harold & Kumar Escape From Guantanamo Bay," Kal and I flew these World War II fighter planes as part of a television show. It was a situation where the pilot was in the back seat, we were at the controls, but he was able to take over when we made a mistake. I had a positive attitude and thought it was going to be a breeze, but Kal was sweating like crazy before we did it. When we got up there, I was frightened. I was thinking, "What are we doing on an airplane doing loop-de-loops in the sky?" And then Kal got really into it. It was sort of Maverick, with his hair on fire. I try to do as many stunts as possible. I do as many things as I can, because I feel like people can read body language and it makes it more realistic if you can see the actual person doing the stunts.
DA: When you were a child, were you a fan of the Christmas stories that "A Very Harold & Kumar 3D Christmas" pokes fun at?
JC: Yes, and I like to think that we pay homage to them, as well as poke fun at them. I love the seasonal specials and all the Claymation stuff. I look forward to "It's a Wonderful Life" and all the shows coming out on television. One of the things I got the most excited about was the prospect of this coming out on cable in 10 years and watching it during that time between Thanksgiving and Christmas. Another reaction I had was that this was going to be a theatrical event. The 3-D is awesome-looking and I hope people go to the theaters and enjoy it with a full audience.
DA: What do you think is the raunchiest or funniest gag in this movie?
JC: The raunchiest gag is a tribute to "A Christmas Story" where it's not a tongue stuck to a pole, but to another body part, and it's not an eyebrow. My favorite bit of the film was an original Christmas musical number with Neil Patrick Harris where Neil is hosting a Christmas television special and Harold and Kumar dress up as toy soldiers and the characters dance with a chorus line and him. I think that sequence is terrific.
DA: How do you think your character, Harold, has grown throughout the course of this trilogy?
JC: I thought it was cool that the characters have aged since the first "Harold & Kumar." It's interesting to me to see Harold and Kumar go through different stages through life. The movie starts out with them estranged from one another. Harold is off starting a family. Kumar is living in his same apartment dealing with his lady. He still lives like he is 20. Through the magic of Christmas, they come back together. The core of the movies is the friendship between Harold and Kumar. I think what allowed us to do the ridiculous things that we do is that we try to make the friendship as real as possible. We realize that without the friendship feeling real, the rest of the stupid stuff doesn't work.
DA: How was working with notorious bad boy Danny Trejo?
JC: B——en. He is a cool dude. He's pretty fearsome looking. Trejo never
wore his shirt on set. He had art on his skin all the time. The guy looked pretty buff.
DA: Is there anything in store for the future of "Harold & Kumar"?
JC: Not at the moment. We will see how this one does. We will make another if our adoring public clamors for it. If people want a fourth one, we'd be happy to give it to them. Maybe it will be called "Harold & Kumar Get Diabetes" or "Harold & Kumar Sign Up For Meals On Wheels."
DA: Are you and Jennifer Coolidge going to have any scenes together in "American Reunion?"
JC: She is in it, so anything is
possible.
DA: Is there anything else you would like the students at SDSU to know?
JC: Do your homework — I don't think so. The movie opens Nov. 4. This is a college paper so I will be presumptuous and assume that these kids have kept me in business. I'd like to say thank you to your readership. Gracias. That's Spanish, man.
Information about "A Very Harold & Kumar 3-D Christmas" can be found at haroldandkumar.warnerbros.com.

About the Contributor David Dixon, Staff Writer
Since, 2005, when he became a writer for the now defunct Rated G column at the San Diego Union Tribune, David Dixon has been writing theatre and film reviews,...