PASS THE POPCORN: Funnyman Galifianakis steals the show in ?Story?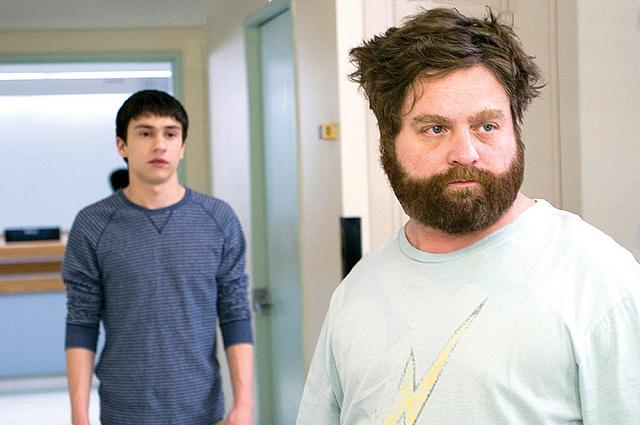 Courtesy of Focus Features
"It starts on a bridge," Craig (Keir Gilchrist), a suicidal teenager, in Focus Feature's new film, "It's Kind of a Funny Story," claims. The story may start on a bridge, but the movie really begins when Bobby (Zack Galifianakis) steps into the picture, a patient deceptively donning doctor's scrubs in the emergency room where Craig is admitted.
Though Craig has been deemed one of the five boroughs most promising students, he is in the midst of a severe life crisis brought on by girls, summer school and parental pressure. His inability to deal with his issues has left him crippled with unfortunate symptoms including "stress vomiting," which, as the name implies, tends to occur at the worst moments.
While his problems are not out of the ordinary for most high school students, Craig realizes he may need help coping when he starts to vividly imagine ways in which he would commit suicide. He asks for help at a local hospital and thus begins his five-day stay at the adult psychiatric ward.
There he encounters Bobby, a father and longtime resident of the ward. He appears to be the most stable of all the cases around Craig and becomes his ally. Also in the unit is Noelle (Emma Roberts), a mysterious girl with self-inflicted cuts on her arms and face.
Once his initial discomfort dissipates, Craig's stress unravels throughout the course of the week. He bonds with Bobby while schizophrenic patients wander in the background and explores a friendship with Noelle during mandatory arts and crafts and musical exploration therapy.
"It's Kind of a Funny Story" is original and entertaining, but something is lacking. Directors Anna Boden and Ryan Fleck, previously known for 2006's "Half Nelson," utilize every possible tactic in an attempt to make the film the anti-generic dramedy. Boden and Fleck work overtime to debunk every possible cliché while skipping a lot of portions of the story the audience probably wants to see.
Despite the film's unpolished nature, there is one true standout: Galifianakis. Known for his wacky role in last year's smash hit, "The Hangover," the talented actor gives his best and most down-to-earth performance yet, ironically playing a mentally unstable man.
"It's Kind of a Funny Story" may not be a must-see, but Galifianakis is worth the price of admission.
Movie: It's Kind of a Funny Story
Directed by: Anna Boden,
Ryan Fleck
Release Date: October 8
Grade: B-