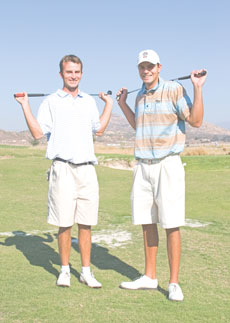 Glenn Connelly, Assistant Photo Editor
Jason and Jamie Puterbaugh needed just one afternoon on a golf course to know they were meant to play on the links.
Their father, Kip Puterbaugh, is a retired professional. He brought his boys to the U.S. Open and, using his connections, the family walked the fairway, a chip shot from the pros.
The most impressive was PGA Tour legend Ernie Els. Els stood 6-foot-3, but in the eyes of 12-year-old Jason, he looked 100 feet tall. Jason could barely mumble "hi," but he knew he wanted to one day walk a mile in Els' cleats.
Jamie Puterbaugh was equally impressed.
"It was cool being around some of the best players ? and I thought it would be cool to be as good as them some day," said Jamie Puterbaugh, who, along with his brother, is now on the San Diego State men's golf team. "After that, I really started to get serious."
Considering their surroundings, it's shocking it took that long.
The brothers received putters as presents. Their playground: the driving range. Kip Puterbaugh has been a golf instructor since 1972 and played for the University of Houston – the top-ranked team at the time.
"(My dad) has meant a lot to me," said Jason Puterbaugh, a 23-year-old senior. "I don't know if I would even be playing golf if not for (him)."
Kip Puterbaugh certainly helps his sons' game. He's always available for advice.
The family ties led them to SDSU. After Jason Puterbaugh spent an unhappy freshman year at USC, Kip Puterbaugh encouraged his eldest to return to San Diego and play for the Aztecs.
When Jamie Puterbaugh joined his sibling that same year, a rivalry was born.
"I think we both want the other one to play well and be able to travel with the team, but we also want to be better than each other," Jason Puterbaugh said jokingly.
Their background is similar, but the two have grown up to be different men. Jason Puterbaugh is calm and laid-back, as you'd expect from the eldest. Jamie Puterbaugh is more expressive, unafraid to wear his emotions on his sleeve.
Their future plans also diverge. Jamie Puterbaugh, a 22-year-old junior, likes to live in the moment. He said he doesn't want to think about what happens after graduation. He's just hoping that it involves golf.
The more calculating Jason Puterbaugh?
"I'm looking at becoming a golf instructor."
It's a family thing.