Behind the woman who does it all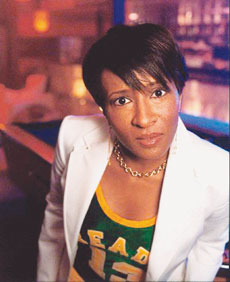 courtesy photo
Best known for making people laugh so hard they urinate in their pants, comedian Wanda Sykes' life is definitely no joke.
A native of Portsmouth, Va., Sykes said she always considered herself to be a pretty funny kid when she was growing up – but was definitely not a class clown.
"I was funny in class," Sykes said. "But I never got the official title of 'class clown.' I think my parents would've had a fit."
Sykes' talent for making people laugh followed her into adulthood when she became an employee of the National Security Agency, a career choice many would not expect from such a high-spirited individual. Sykes said it was while she was working for the NSA when she realized she wanted to do something more with her life and decided comedy was the way to go. Several weeks later, she entered the Coors Light Super Talent Showcase in Washington D.C., where she performed for the first time in front of a live audience. Though she did not win this competition, Sykes said this experience helped her to realize how much she really wanted to be a comedian.
"I didn't win, but I had a really good response," Sykes said. "After that, I hooked up with some of the comics there, and they hooked me up with some of the local comedy clubs, and I just sort of stayed with it."
Now ranked in Entertainment Weekly's "25 Funniest People in America," Sykes certainly has moved up since her performance in Washington, D.C. Riding an all-time career high, Sykes' witty repertoire now dominates almost every form of mass media known to man today, including television, film and a new autobiography titled Yeah, I Said It.
Sykes' latest comedic venture includes a nation-wide tour and a new television series on Comedy Central titled "Wanda Does It." In this new reality television show, Sykes exposes the supposed backbone of America as she takes on a different occupation every week to showcase a few of her many talents.
So far, the comedian's occupational resume includes a photographer, a WNBA coach, a pilot, a professional gambler, a repo woman and a raunchy "lady of the night" at the Chicken Ranch Brothel.
When asked what her favorite job was so far, Sykes replied, "Probably coaching the Sparks because I am a big fan of the WNBA, so it was cool being right there on the bench with the ladies and going to their practice and all."
Besides juggling different hats on "Wanda Does It," Sykes also lends her voice to the Comedy Central series "Crank Yankers," a show starring a group of deranged muppet wannabes who crank-call real people with ridiculous requests to capture their responses. With this show, Sykes says her favorite episodes are the one where she calls a tow truck company to complain about a turd in her back seat, and the infamous conjugal visit call, where she offers to pimp herself out to a group of men in prison.
"They have some really good writers to come up with those scenarios," Sykes said about the show. "And they even have some really good lines for us to use, so I pretty much go with a few of theirs and I throw a few of mine in, too. It all depends on which way the call is going."
Though constantly bombarded with a slew of promotions for her book and television series, Sykes is now beginning to focus all of her attention on what she loves most – performing on stage. Sykes is currently traveling the country with her "White Cotton T-Shirt" tour, which will be playing at Spreckels Theatre in Downtown San Diego tonight.
Wanda Sykes will be performing 8 p.m at the Spreckels Theatre. Tickets range from $27.50 to $34.50. For more information, please call (619) 235-9500.