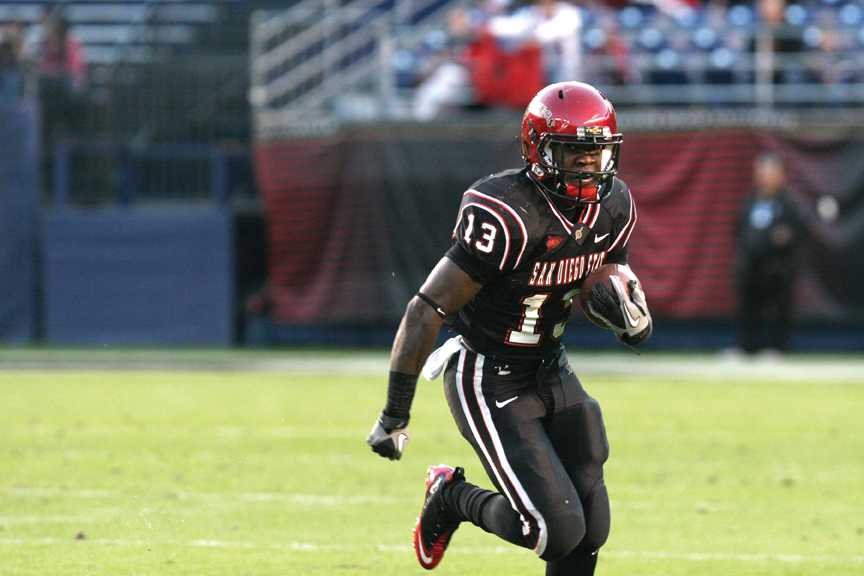 NEW ORLEANS—During a game in which anything seemed probable, an unlikely penalty call contributed to the San Diego State football team's downfall.
Leading the University of Louisiana Lafayette by a point with four seconds left in the game, SDSU was called for an illegal spinning penalty. The penalty moved up the Ragin' Cajun field goal attempt five yards, from 55 yards to 50
Louisiana Lafayette kicker Brett Baer proceeded to nail the field goal and win the R+L Carriers New Orleans Bowl for his team 32-30.
This game included everything — one-handed catches, a punt return for a touchdown, two 400-yard passers, more than 1,000 yards of total offense and two lead changes in the final 35 seconds.
It was an incredible game and an incredible heartbreak for the Aztecs, who fell to 8-5 on the season with the loss.
The loss happened in front of an announced attendance of 42, 841 — a New Orleans Bowl record.
The penalty
The illegal spinning penalty will live on in SDSU lore for a long, long time.
Baer was on point with his 50-yard field goal attempt, but there's no telling what would have happened had five more yards been added to the try.
The Aztecs didn't seem happy with the officials. Head coach Rocky Long questioned the call when he was asked about it by the media after the game.
"Still think it's a phantom call at the end," Long said. "I can't believe they called us for offsides – we didn't have one guy move."
Senior linebacker Miles Burris gave his explanation of what happened after the game.
"We had a defensive lineman stand, he didn't step forward or move," Burris said. "He drew movement, so they called the penalty on us. I didn't like it."
There was much confusion regarding the call. The penalty itself is rarely called and Long didn't even know who the penalty was called on.
Even though the call was confusing, one thing is clear: the penalty was costly for the Aztecs.
Lindley's last stand
SDSU's senior quarterback obviously didn't want to finish his college career with a loss in his final game, but if there was a way for Ryan Lindley to finish his career in a loss, this was it.
Lindley led a 10-play, 69-yard scoring drive in a little more than a minute and a half to help the Aztecs take the lead after facing a nine-point deficit early in the fourth quarter.
Lindley completed 28-of-49 passes for 413 yards and three touchdowns. It was his best game of the season.
His biggest pass was a 12-yard touchdown to sophomore receiver Colin Lockett with 35 seconds left.
Even though he threw the touchdown pass with so little time left in the game, the quarterback didn't feel like the game was over.
"I knew there was 30 seconds on the clock," Lindley said. "You'd like to think [it was over.] You want to go out with guns blazing, so that's what I had to do."
Lindley will leave Montezuma Mesa near or at the top of record book in many SDSU passing categories.
Even though his career ended with a loss, he will finish his career as arguably the greatest quarterback in school history.
Special teams struggles
There's three phases of every game: offense, defense and special teams.
Generally, special teams is the most overlooked part of the game, but last night it played the biggest role of the game.
Long noted the importance of the third phase of the game.
"Everybody wants to look at offense and defense," Long said. "Guess who won the game? It was special teams that won the game."
Louisiana Lafayette made its two field goals in the fourth quarter, while senior kicker Abelardo Perez missed his fourth quarter field-goal attempt.
The punting game was a mismatch too, as the Ragin' Cajun's Darryl Surgent returned a punt 87 yards for a touchdown in the second quarter and Baer pinned the Aztecs at the one-yard line twice on a pair of punts in the third quarter.
Long said Louisiana Lafayette just made more plays than the Aztecs.
"We had opportunities and we didn't make as many plays as they did," Long said. "We missed a field goal, they made a field goal. So it could be the punt return, or the missed field goals, whichever way you want to look at it."
 Hillman's off game
Much speculation has been made about the possibility of sophomore running back Ronnie Hillman possibly leaving early for the NFL Draft in April.
If this game was any indication, the sophomore may want to come back to school for another season.
Against a speedy Ragin' Cajun defense, Hillman was held to 55 yards on 24 carries. Hillman repeatedly tried to keep breaking runs to the outside but had no luck.
Louisiana Lafayette coach Mark Hudspeth said stopping Hillman was a point of emphasis for his team coming into the game.
"For us, you have to stop Hillman," Hudspeth said. "If you don't, you're going to bleed a slow death and he's just going to grind out yards on you all night. [The game plan] worked for the most part."
Long praised the Ragin' Cajun run defense for its effort against Hillman.
"You have to give them credit, they played really good run defense," Long said. "So the guys up front didn't block very well. Give them credit, they played really well up front and did a great job against the run.
 News and notes
Lockett finished the game with six catches for 85 yards and three touchdowns. Sophomore receiver Dylan Denso finished with five receptions and 109 yards.
The team will suit up again in nine months, when it plays against the University of Washington on Sept. 1, 2012 at CenturyLink Field in Seattle.