Softball team positions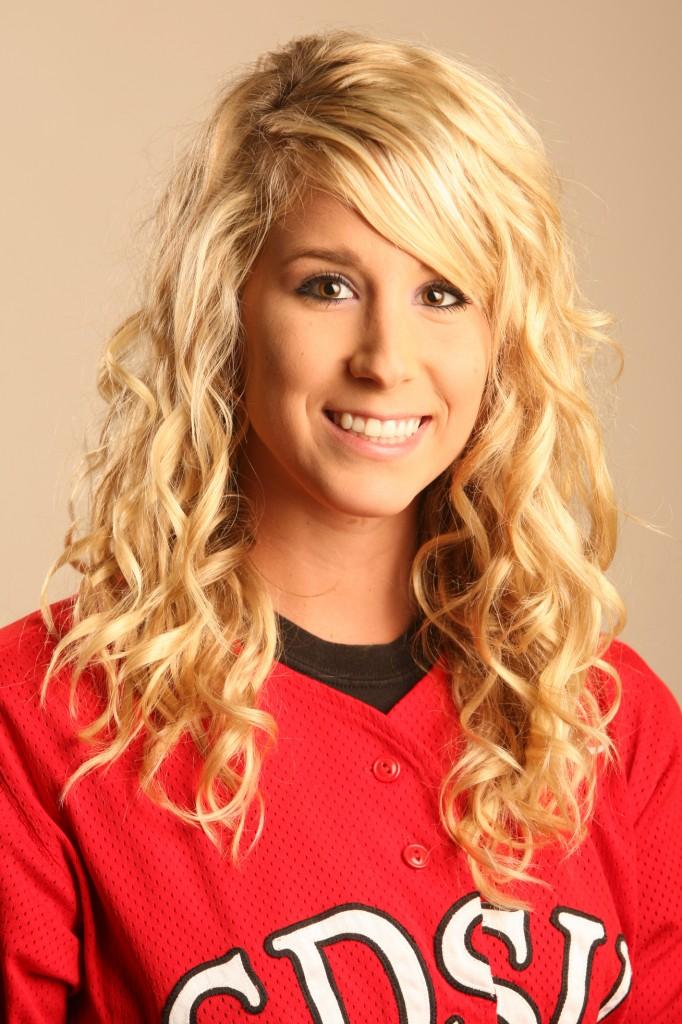 Catcher – Kristin May
This May sister will be starting at catcher this season, where she split some time with Eva Sahatdjian last year.
The junior hit .233 a year ago, with two home runs and 13 RBIs.
She has proven to be a good fielder behind the plate, too. She only recorded one error in 169 chances in 2010.
The other catchers listed on the roster are redshirt freshman Wendy Tamayo, who transferred to SDSU from Nevada, and freshman Kaitlin Connors, who was playing at La Costa Canyon High School last year.
Right field – Patrice Jackson
Jackson sat out last season and used her redshirt year.
She is supposed to be the starter in right field this season. In 2010, Jackson started 25 games, two in left field and 23 in right.
She hit .194 in 72 plate appearances that season.
She has gotten off to a blazing start in 2012. Through six games she is hitting .500 with three home runs and seven RBIs.
She's racked up 19 total bases and her slugging percentage is .950.
Left field – Lorena Klopp
Klopp has already worked her way into the SDSU record books.
She hit 15 home runs last season, which set the single-season record for the Aztecs.
She has already broken the career record for home runs, which was 17, and it's only the beginning of her sophomore season.
She also set the school record for extra-base hits last year with 25.
Klopp spent most of her time in left field, and should spend most of her time there this season, too.
Second base – Katie Mathis
Mathis is expected to be a major contributor at second base this season.
She was hampered by injuries last year, which caused her to play in just 31 games.
Mathis is a sophomore from Bear River High School in Grass Valley.
The other two players listed at second base are freshman Jacki Campa and junior Tiffany Corder.
Campa is a true freshman from Bonita High in La Verne, Calif.
Corder transferred to SDSU from UC Santa Barbara.
First base – Justeen Maeva
Maeva, who previously transferred from Cal State Bakersfield, was the Aztecs' best hitter a season ago.
The senior can hit for power and for average. Last season she batted in 39 runs, hit a team high .348 and sent home runs over the fence seven times.
She was also tied for the team lead in hits with 54.
Expect more of the same from the power-hitting first baseman in her senior season.
Third base – Ashley Rose
The other corner infielder is back for her senior season.
Rose started 52 games last season. She is strong with her glove, as she had a .969 fielding percentage.
At the plate, Rose hit .217 last season with four doubles and 17 RBIs.
She has started slow through this season, only batting .133, but expect her to improve her batting average as the season goes on.
DP/Utility – Kamerin May
The other May twin is back for her junior season. In 2011 May had a respectable .281 batting average.
She started 51 games, had 43 hits, seven doubles, four home runs and 19 RBIs.
Her slugging percentage was .405.
Early this season, May has been used primarily as a pitcher. In her first four appearances her record is 1-2. Her ERA is 3.00 and she has struck out 15 batters in the 16.1 innings she has pitched.
Shortstop – Fiana Finau
Finau is a freshman from Hilltop High School.
Even though she has only played in two games this season, she is batting .400.
Finau is playing shortstop, where she is replacing Jen Wisneski, who was one of the senior leaders on the team last year.
Centerfield – Hayley Miles
Miles put together an impressive performance last season — so impressive she was named Mountain West Freshman of the Year.
She hit .344, knocked in 29 runs and had five home runs. She tied Maeva for the team lead with 54 hits.
She led the team in doubles with 11 and walks with 22. She has a knack for getting on base, too. Miles led the team with a .440 on-base percentage.
She was also one of two players to start all 55 games last year.