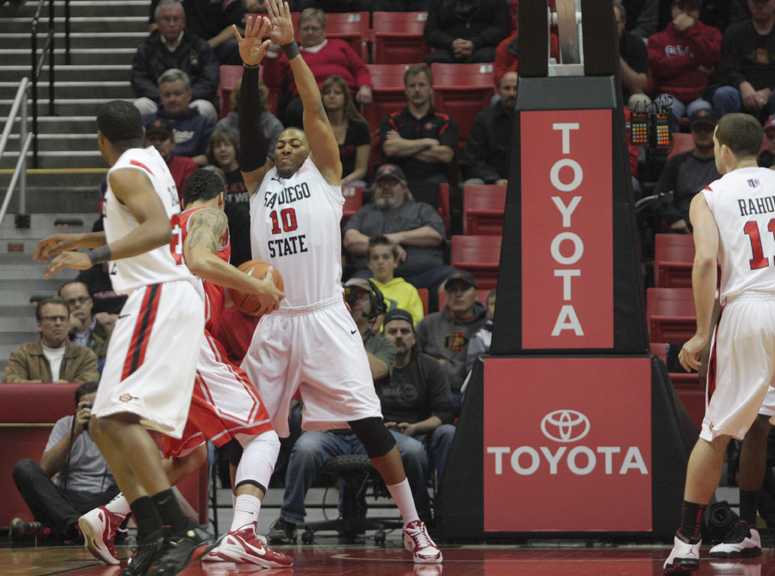 It's not like the San Diego State men's basketball team hasn't lost a game this season, but the latest setback felt pretty devastating.
After UNLV lost to TCU on Tuesday night, last night's game between New Mexico and SDSU became a battle for sole possession of first place in the Mountain West Conference.
The Aztecs were playing at home and had already beaten the Lobos in "The Pit," but none of that mattered as New Mexico came into Viejas Arena and dominated SDSU, winning by a final score of 77-67.
The result means the Aztecs are now tied for second place with UNLV, while New Mexico is all alone in first place.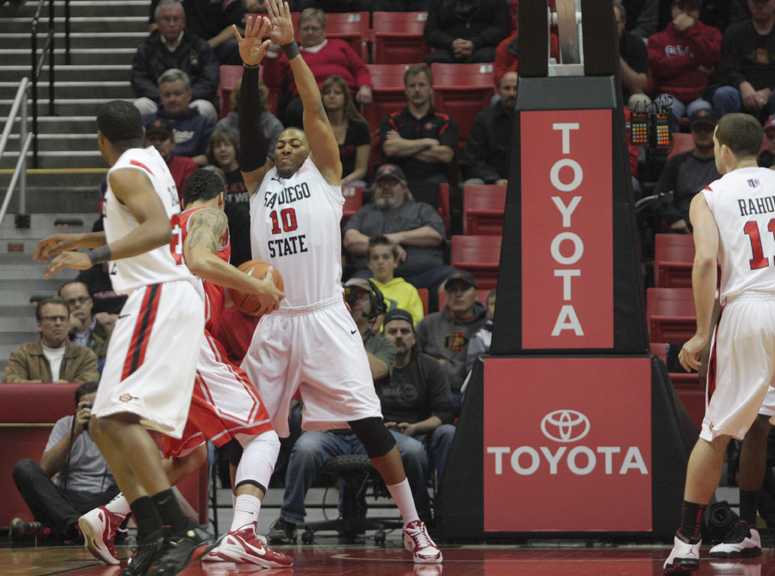 The loss was the second straight for SDSU. It was the first time in 80 games the Aztecs have dropped back-to-back decisions.
Head coach Steve Fisher was impressed by the Lobos, who earned a season-defining win last night.
"Tonight we played a team that played better than anybody we've played to date," Fisher said. "They beat us — I don't think we lost. They beat us, they were very good."
Lobos leave impression
All season long, the two teams in the Mountain West that have been getting most of the love from the national media have been SDSU and UNLV.
Those are also the two teams that are now in New Mexico's rearview mirror.
The Lobos came into Viejas Arena with a chip on their shoulder and it showed.
New Mexico took the lead with 15:40 left in the first half and never relinquished it.
Drew Gordon dominated the inside with 17 points and 17 rebounds, while Kendall Williams dominated the outside, scoring 21 points and going 5-for-6 from behind the arc.
Gordon hopes the win will help the national perception of the Lobos and get them more national attention.
"All season people have been talking about San Diego State and UNLV going at it, so this is a nice win to put us sole in first," Gordon said. "I think we will get a little more recognition for being in the hunt to win the conference."
Down but not out
No doubt the loss was tough for the Aztecs, but the team knows it has to regroup in a short amount of time because the conference is so difficult.
"They outplayed us tonight and they got the better of us on our home court, but we have to bow our heads back this week. It's tough," junior guard James Rahon said after the game. "We have to make sure we get this one in Colorado Springs this weekend. It was a tough loss tonight, but we'll try to get this next one."
Fisher knows his team and knows it will be prepared come time for Saturday.
"I have no doubt that we will be ready on Saturday, that's the job description," Fisher said. "We've got character kids that will compete hard."
News and notes
After being held scoreless for most of the game, junior guard Chase Tapley heated up for seven points in one stretch of the second half to bring SDSU within six points.
Sophomore guard Jamaal Franklin suffered an ankle injury, but Fisher told the media after the game he didn't know how Franklin injured it.