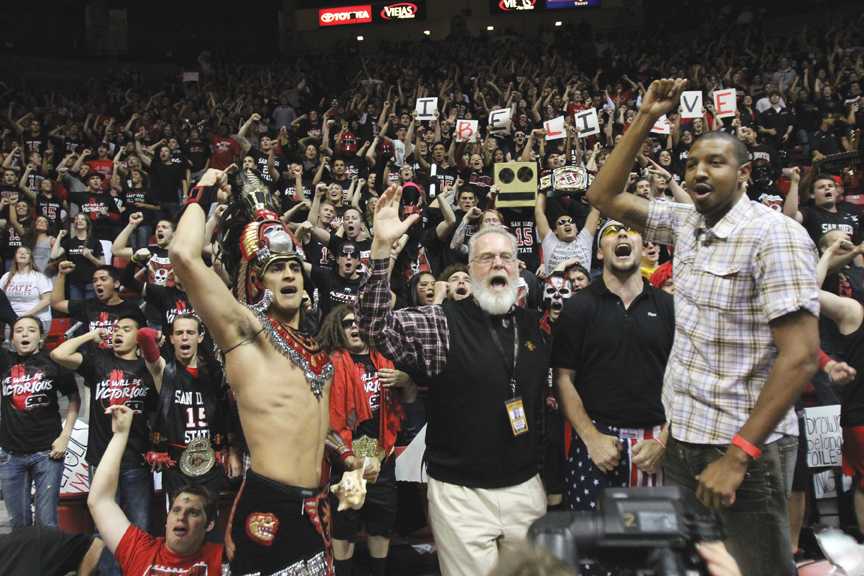 Coming into last night's game against the Wyoming Cowboys, senior center Garrett Green and sophomore guard Jamaal Franklin were nursing ankle injuries and both of their statuses were questionable for the game.
Well, both quieted any doubts as they came up with big performances to help the San Diego State men's basketball team claim a 67-58 overtime win against Wyoming.
Franklin scored 12 points, six of them coming in overtime to help SDSU avoid its fourth straight loss. Green had his best game as an Aztec as he scored 14 points and recorded three rebounds. Green's 14 points came on a 6-for-6 shooting effort. The two impressed their teammates with their effort battling against injuries.
"What these two guys are doing really exemplifies how mentally and physically tough these guys are by playing through ankle injuries," senior forward Tim Shelton said after the game. "Just being tough and gutting it out. I'm really proud of these guys and we got the win. I'm just excited."
The win was the 21st of the season for SDSU. After New Mexico lost to Colorado State on Tuesday, the Aztecs find themselves trailing the Lobos by a game for the Mountain West Conference lead with three games remaining.
Ending the slide
After three straight losses, SDSU seemed due for a win. It had been nearly three weeks since the Aztecs were last victorious in a game. The team has now persevered through tough times and cleared some unchartered territory.
"It feels good," Franklin said. "I've never been through that before. It was hard but I'm kind of glad it happened to us because it makes us love the game more, appreciate it more."
Franklin displayed how much he wanted the win in overtime. His five straight points to start the extra session gave the Aztecs the separation they needed. Franklin scored two points in the first half, but had ten points in the second half and overtime.
He said he looked to be more aggressive in the second half and it ended up helping the team.
"I was struggling in the first half and a little bit in the second half but my teammates were always there encouraging me and told me to keep my head up," Franklin said. "I was still struggling in overtime but I opened it up a little bit."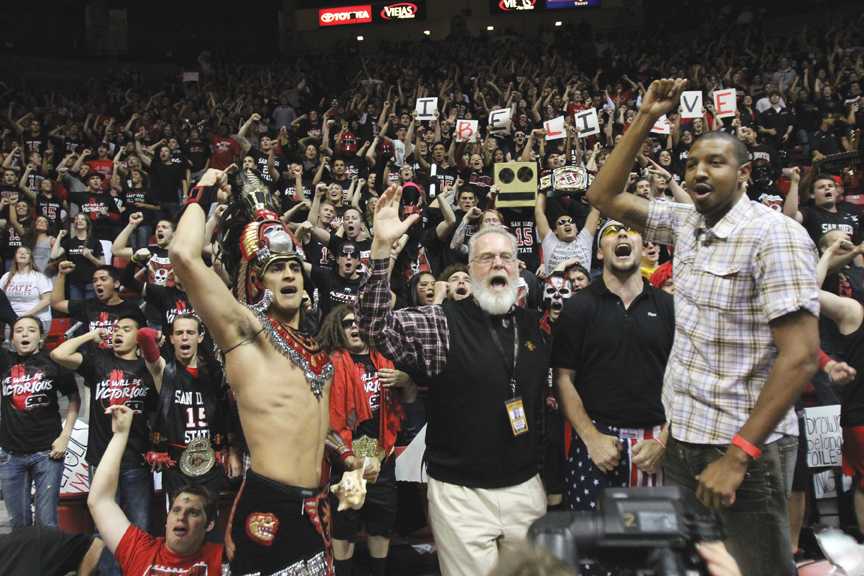 Closing out the game
With a chance to win the game against UNLV, sophomore point guard Xavier Thames turned the ball over.
Against Air Force, Thames' attempt at the game-winning three-pointer missed.
Against Wyoming, Thames, Franklin, Green and junior guard Chase Tapley all made plays down the stretch to help the Aztecs seal the deal.
"We made a couple of plays," SDSU head coach Steve Fisher said. "We were down 44-35 and outscored them 32-14 the rest of the way. When you win you say we made some plays down the stretch and we made enough of them."
The overtime win was the third of the season for the Aztecs and their fourth straight win in extra time overall.
The conference grind
This was another in a series of what has proved to be difficult conference games for SDSU.
After losing three straight games and being taken to overtime in conference play, Fisher emphasizes how tough the league really is.
"This is the most competitive the league has been from one through eight," Fisher said. "You have to play well to have a chance in it. You have to compete hard for every victory. The closeness of the scores of these games shows that. You can forget about it if a team has a 2-8 record and somebody else has a record of 8-2. Every game goes down to the last two or three minutes with either team playing having the chance to win. That is the norm in our league now."
News and notes
SDSU is off to its fifth-best start in school history with its 21-6 record. With the win it avoided its first four-game losing streak since the 2004-2005 season.
The Aztecs have now defeated the Cowboys five straight times.
The bench provided a big spark for SDSU. The subs combined for 24 points, 12 rebounds and four assists. Shelton scored 10 points and grabbed seven rebounds. It was his third straight game scoring in double figures.
Thames had nine points and six assists to go along with three steals.