Gorillaz fans rejoice, for the virtual English band has released a funky new track, with collaboration from OutKast's Andre 3000 and James Murphy of the now defunct LCD Soundsystem. The track, titled "Do Ya Thing", and its strange 3-D heavy music video, was sponsored by Converse's "3 Artists. 1 Song" campaign. The three artists have definitely delivered, as "Do Ya Thing" contains elements that come from each musical act, respectively; it's the electric funky collaboration we've all been waiting for.
The song starts off with a drum machine giving off a quirky beat, rapped over by 2-D's mindless lyrics, some of which are difficult to comprehend.
The pre-chorus is a change of style from the verse, and you can't help but be reminded of Andre 3000's work with OutKast. The actual chorus, sung by Andre, contrasts with 2-D's verses because Andre is actually singing, and so now we see the song from two different perspectives, as if Gorillaz mastermind Damon Albarn and Andre 3000 combined two unfinished songs that they had previously written.
Andre 3000 also raps quite a lengthy verse, which is probably as mindless yet complex as 2-D's rap, except more comprehendible. Try saying, "Do ya damn thang/Do ya thang-a-thang" five times without messing up.
This strange song is accompanied by an even stranger video, which briefly opens with footage of an alligator preying on a gazelle, and takes place in a London flat, in which 2-D wakes up from what appears to be the day after a massive party. Guitarist Noodle and drummer Russell are briefly seen, while 2-D and bassist Murdoc have more screen time. The 3-D in the video is phenomenal, and has surpassed the animation in past videos by the Gorillaz.
The video makes several references to previous Gorillaz music videos and concepts from their albums, most notably the floating island and windmill seen at the end of the video.
The eviction notice at the end of the video might indicate a new concept in the Gorillaz upcoming work.
Despite being a collaboration, this is still definitely a Gorillaz song; it has the feel of it, and the video is purely the work of band designer Jamie Hewlett. Here's the impressive video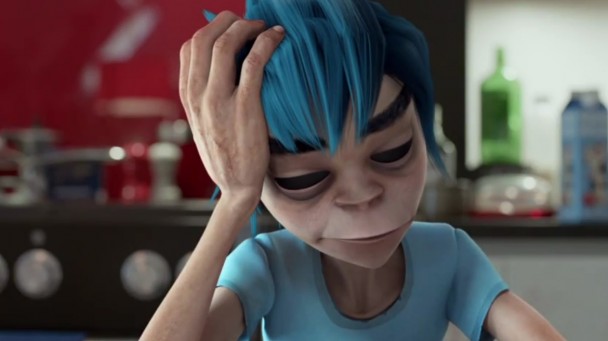 . Enjoy!