SDSU Theatre's 'Zanna' doesn't disappoint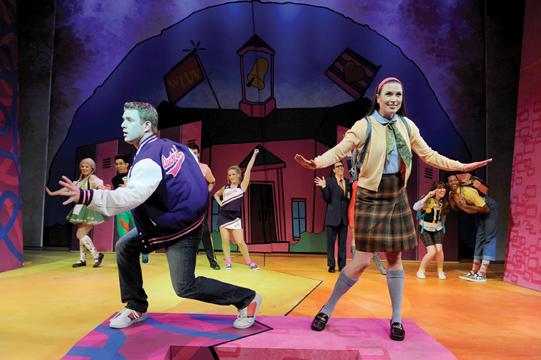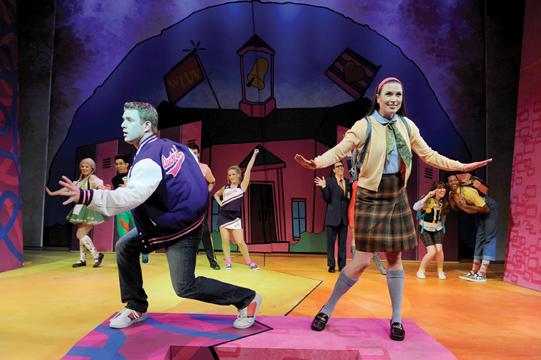 For the past few years, musicals at San Diego State have been shows that celebrate the past. Now, there is a modern comedy being performed on campus that deals with a very important 21st century issue: intolerance and, more specifically, sexual orientation discrimination.
"Zanna Don't! A Musical Fairy Tale," takes place in a universe where homosexuals rule the earth and being straight is frowned upon. Within that alternative reality, the main character, Zanna (Tom Vendafreddo), is both a high school student and a fairy who tries to be a contemporary matchmaker. Like Jane Austen's heroine, Emma Woodhouse, Zanna discovers his meddling does not always achieve the results he expected, which ultimately leads to a forbidden romance between a talented quarterback (Mike Potter) and an eager busy bee who happens to be a girl (Bethany Elkin).
Director Rick Simas was given the difficult task of making mood changes in this production feel perfectly natural. The entire first act is a satire happily poking fun at society.
Act II seems like it is headed in the same direction, but when the heterosexuals realize they really do feel a romantic connection, the plot take a serious turn. Simas handles this transition extremely well and it is surprising how emotionally involving "Zanna Don't!" becomes.
The big twist that occurs in the climax is a huge bombshell; the revelation adds depth to the story's message about love and acceptance.
Everyone in the cast is terrific, but the actor who really holds it all together is Vendafreddo. He has given strong supporting work in recent years in "Little Women" and "The Boyfriend," but as a lead, Vendafreddo is outstanding and instantly likeable as the supernatural boy who only wants to help others.
Vendafreddo is at his best in two of the many standout musical numbers. Zanna leads fellow characters in a musical within a musical about heterosexuals in the military. "Be a Man," is a parody of military propaganda that Vendafreddo handles with witty verve.
He is also amazing in a sad song in Act II called "Someday You Might Love Me." The only context that will be given in this review is that "Someday You Might Love Me" comes after a heartbreaking conflict. He reacts to this incident with such dramatic power there were audience members getting audibly choked up during the opening night's performance.
Even with these dark moments, "Zanna Don't!" maintains an upbeat attitude. It is hard not to smile when entering the Don Powell Theatre, because C.L. Ward's scenic design creates the tone with a happily cartoonish depiction of the fictional school, Heartsville High. The fun only continues with Dominic Abbenante's spare but smile-inducing projection designs, which are mostly devoted to bringing Zanna's bird friend, Cindy, to life.
Made with plenty of good-natured humor and heart, "Zanna Don't!" proves to be a wonderful time. The addicting songs, along with the timely story, result in a creative crowd-pleaser.
Tickets and information about "Zanna Don't! A Musical Fairy Tale" can be found at theatre.sdsu.edu.

About the Writer David Dixon, Staff Writer
Since, 2005, when he became a writer for the now defunct Rated G column at the San Diego Union Tribune, David Dixon has been writing theatre and film reviews,...