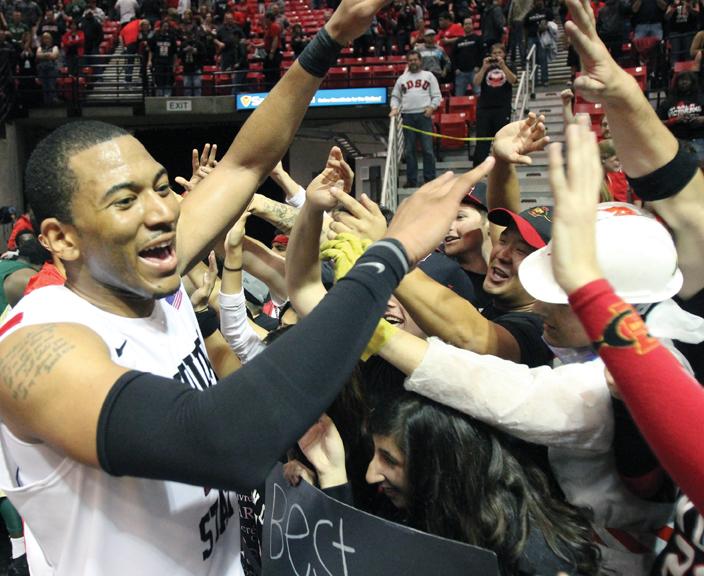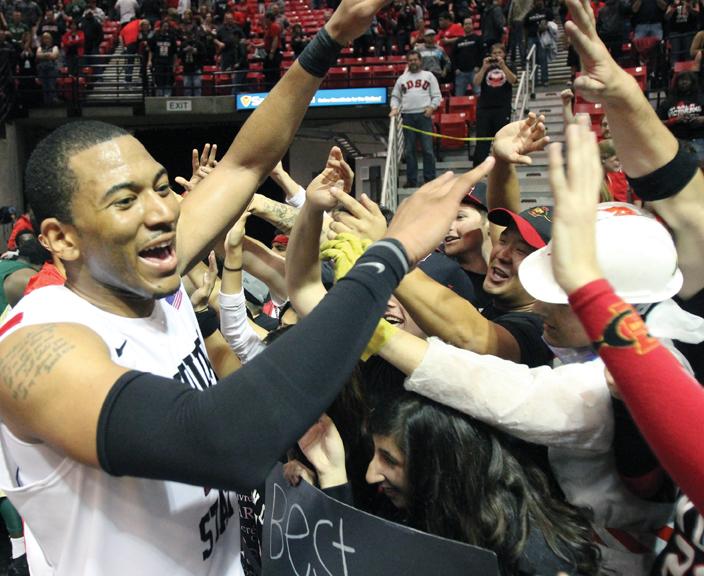 When it walks onto the court tomorrow morning, the San Diego State men's basketball team won't be taking on just the North Carolina State Wolfpack.
It'll be facing another opponent, too. One it's been facing since the beginning of its rise to become a great program. One it faced during last season's Sweet 16 run, and one it faced during the preseason.
The opponent is public perception. Nobody expected SDSU to be here. Nobody expected it to make the Sweet-16 last season, nobody expected it to contend in the Mountain West Conference this season, nobody expected them to be in the NCAA Tournament. Now nobody expects it to beat N.C. State.
Most "experts" are picking the Wolfpack. The Las Vegas money line is favoring N.C. State, so the Aztecs are facing public perception and the voice of the experts once again.
But it's not like that's an opponent SDSU hasn't beaten before.
"Same people (who picked N.C. State) probably didn't think we were going to be in the tournament," senior forward Tim Shelton said. "So I'm not really worried about that."
Even after the MW placed four teams in the tournament, the second time in the last three seasons, SDSU still doesn't get much respect from the pundits.
"It is what it is," Shelton said. "It's nothing that we can control. The beautiful thing about our conference is that we have four teams in tournament and that goes to show what we're doing. We're just getting better and better."
Junior guard Chase Tapley was asked during the team's weekly press conference on Monday if he had noticed a lack of national respect and said he's grown accustomed to it during his time on campus.
"It's been something I'm used to, I guess. I've been used to it the last couple of years, with San Diego State being on the back burner," Tapley said. "People have dismissed what we've done the last two, three, four or five years. Like Tim said, it's nothing we're worried about. We just have to keep proving people wrong."
SDSU will have to prove people wrong with its play on the court. The Wolfpack isn't going to be the easiest team to prove it against either.
N.C. State brings a lot of size to the table, which is something the Aztecs don't have. The Wolfpack has seven players on their roster who stand taller than 6-feet 8-inches while SDSU has one: senior center Garrett Green.
N.C. State likes to push the pace as well. This is something the Aztecs will avoid, because they lack the depth to keep running during the course of the game. But SDSU will pick its spots when it does choose to speed things up.
"We've got to run selectively. We've got to run with intelligence," SDSU head coach Steve Fisher said. "We've got to run when opportunity presents itself for a good, easy shot, but we can't run, run, run, run, run.
"The most important thing is we've got to make sure we don't have live-ball turnovers, we don't take quick, bad shots that allows them, with an unbalanced floor, to get out on a run because they are very good in transition."
An extra day before they have to play a game will be beneficial for the Aztecs, who just finished playing three games in three days. The bonus of having an extra day to rest offsets some of the extra travel SDSU has to do by flying to Columbus, Ohio.
No matter the travel or rest, it's the time of year when it's win or go home. The Aztecs will have to win tomorrow to keep their season going to try to possibly make another Sweet 16 run.
It'll also need a win to prove the experts wrong and claim another victory against public perception.