'A Room' worth a view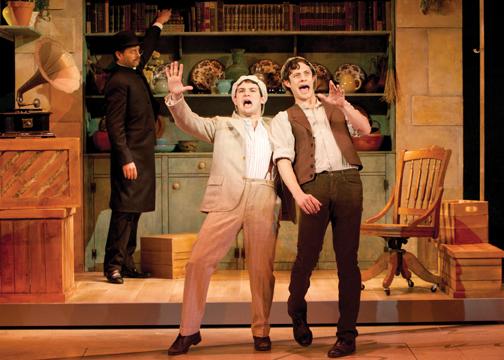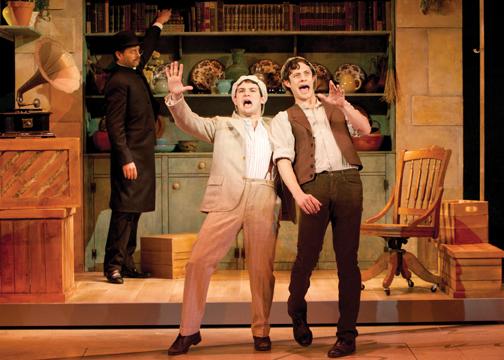 When thinking of English behavior during the early 20th century, one imagines stereotypically uptight citizens who believed they must follow the strict codes of society. A lesson in The Old Globe's presentation of the new musical, "A Room with a View," is that these anxious people would have lived more satisfying lives if they had listened to their guts and not necessarily acted according to others' expectations.
Based on the novel by E.M. Forster, the action begins in Florence, where Lucy Honeychurch (Ephie Aardema) is on vacation with her protective cousin, Charlotte Bartlett (Karen Ziemba). Lucy is engaged to marry the wealthy yet ridiculously self-indulgent Cecil Vyse (Will Reynolds), but she has many chance romantic encounters with the somewhat cynical, but not hopeless, tourist George Emerson (Kyle Harris).
Unlike the book and well-known film of the same name, "A Room with a View" is a comedy that takes pleasure in poking fun at Lucy's snobby world. Almost all of the characters are so emotionally guarded they do not realize their excessively serious manner makes them very funny creatures of habit.
Ultimately, many of these specimens find real happiness in taking risks. Lucy is at her most upbeat when she and George connect. When she is away from him, the young lady lives a very predictable life in which her older cousin attempts to control her destiny.
With a strong story containing hilarious bite and an extremely talented ensemble, the one thing left to ponder is whether the music leaves a lasting impression. The good news is the tunes are generally quite absorbing. The tale begins, as most shows should, with a crowd-pleasing opening number. "Dear Britannia" sets the tone for fun to be had by winking at the excessive pride the British have for their beloved island.
If "A Room with a View" continues to be tightened for a Broadway run, there is a song early on that should be taken out or altered. The title number, "A Room with a View," sung by Lucy, is generic and similar to many "Great White Way" songs about men or women looking forward to the journey they are about to embark on. Either the solo should be replaced with another, or Lucy's first big moment should not come until late in Act I with the much superior song "Ludwig and I." Jeffrey Stock's music and lyrics, as well as Aardema, do a better job depicting the inner conflict Lucy faces: whether it is right for her to think about George in a romantic fashion when she is engaged to another, a man from a higher position in society.
Heidi Ettinger's scenic design, which at times incorporates rain and a watering hole, is beautifully whimsical. The best visual moments are the scenes in front of a large painting. These occasions almost tempt spectators to ignore the warning not to take flash photography.
Add the wonderful performances, as well as fairly crisp direction from Scott Schwartz, and "A Room with a View" becomes highly entertaining. While it does have some minor flaws, the love story is nothing short of a theatrical delight.
Tickets and information about "A Room with a View" can be found at theoldglobe.org.

About the Contributor David Dixon, Staff Writer
Since, 2005, when he became a writer for the now defunct Rated G column at the San Diego Union Tribune, David Dixon has been writing theatre and film reviews,...