PASS THE POPCORN: 3-D adds a new element to Knoxville?s same old story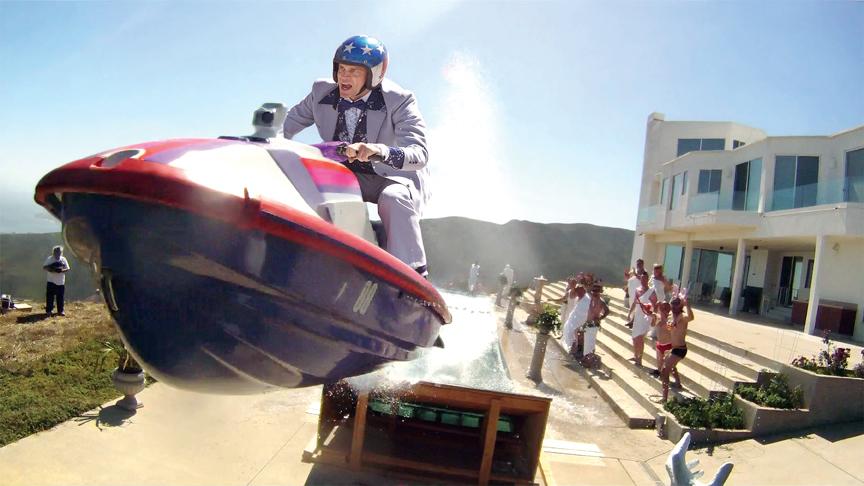 Courtesy of Paramount
The kids are back. At least, that's what the opening song claims as MTV's welted prodigal sons stride out onto the set of "Jackass 3D." From the twisted minds of Johnny Knoxville and Jeff Tremaine comes the newest 8212; and hopefully the last 8212; installment of the vomit-inducing series.
By now, audiences are familiar with the "Jackass" routine. In fact, for those who grew up watching the show and its eventual outshoots such as "Viva la Bam" and "Wildboyz," the sight of Knoxville's production company's "Dickhouse Productions" emblem can be practically nostalgic.
Though it's been four years since "Jackass Number Two" hit theaters, there is no shortage of creativity when it comes to the various stunts. Rest assured, while students spent time studying in the library, Knoxville and Tremaine were busy engineering elaborate ways to creatively harass each other. All the old players are there: Preston Lacey, Bam Margera, Steve-O, Dave England, Chris Pontius, Brandon Dicamillo and Jason "Wee Man" Acuña round out the best group of friends people should never hope to be friends with.
There is no plot, rhyme or reason, just pain, followed by laughter 8212; lots, and lots of laughter. The clips range from "Candid Camera"-style skits (yes, Knoxville's elderly alter ego is back for a seemly rendition of the Black Eyed Peas' "Boom Boom Pow") to gross-out stunts (think "Poo Cocktail Supreme" and "Sweatsuit Cocktail") to just plain painful ideas ("Beehive Tetherball," and "Lamborghini Tooth Pull").
Anyone who's watched MTV in the past 10 years knows what they're getting when they surrender $11 for a ticket to a "Jackass" film. The twist this time is the addition of this year's biggest marketing tool: 3-D. So does it make the stunts better? Not really. Does it make the vomit more gross? Absolutely.
Watching unsuspecting guys get hit in the manly parts will never not be fun. The fact that "America's Funniest Home Videos" is still on the air after 20 years can attest to this. The problem with "Jackass" now, is all the cast members know it's coming. Why they even show up to work every day is astonishing, given at any time they might be victims of a giant hand to the face or a fake floor-turned-snake pit. Their suspicions of one another is evident with every raised eyebrow to the camera.
The bottom line: The kids might want to think about retiring their jockstraps.
Movie: Jackass 3D
Directed by: Jeff Tremaine
Release Date: October 15
Grade: C