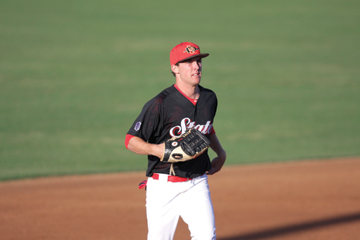 Football game and television times announced
Last week, five kickoff times for the San Diego State football team were announced. SDSU will appear twice on NBC Sports Network and three times on the CBS Sports Network this fall.
The Aztecs' home opener on Sept. 8 against Army will kick off at 4:30 p.m. and will be on NBC Sports Network.
SDSU will take on the newest member of the Mountain West Conference, Hawaii, at 5 p.m. at Qualcomm Stadium for the annual KGB SkyShow game on Oct. 6. The game will be televised on CBS Sports Network.
On Oct. 20, the Aztecs will play Nevada at 7:30 p.m.; the game will be televised on CBS Sports Network as well.
Boise State will welcome SDSU on Nov. 3 at 7:30 p.m. on the CBS Sports Network.
The home finale for the Aztecs will be against Air Force. The game will be televised on NBC Sports Network at 12:30 p.m.
Miles named Academic All-District
Last Thursday, SDSU sophomore Hayley Miles was honored by being named to the 2012 Capital One Softball Academic All-District Team, by the College Sports Information of America.
Miles earned first-team District 8 honors. The sophomore was the only player from the Mountain West Conference to do so.
The journalism major holds a 3.6 GPA. She is the first Aztec to be named to the Academic All-District team since Brittany Knudsen was honored with second-team distinction in 2010.
Mattera earns MW Coach of the Year honors
SDSU women's tennis head coach Peter Mattera was named 2012 Mountain West Women's Tennis Coach of the Year.
For Mattera, who just finished his 19th season on campus, it was the second time he earned the honor. He also won the award in 2003.
SDSU defeats UNLV on Saturday
The San Diego State baseball team drubbed UNLV on Saturday 9-2. The Runnin' Rebels scored the first run of the game, but after that SDSU poured it on.
The Aztecs scored six runs combined in the second and third innings and added three more runs in the fifth inning.
Freshman right fielder Greg Allen scored a run, had two hits and batted in three runs. Junior designated hitter John Spirk had two hits and scored two runs, while also bringing in two runs.
—Compiled by Sports Editor Antonio Morales