Japandroids soar with "Celebration Rock"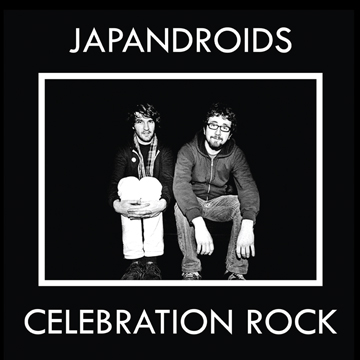 There couldn't possibly be a better name for Vancouver-duo Japandroids' second full-length studio album, "Celebration Rock." Japandroids, who consist of Brian King (vocals, guitar) and David Prowse (vocals, drums), have crafted a rock-and-roll epic that exudes nostalgia, but never seems to lose sight of the present both musically and thematically. It's a difficult balance to strike for some, though King and Prowse seem to have a natural ability for creating simply awesome rock.
Like Japandroids' first album, "Post-Nothing," there are only eight tracks on the band's "Celebration Rock," though the album clocks in at around 35 minutes. This works to their advantage, as there isn't any filler to be found on the album. There aren't any tracks that are skip-worthy, which is very rare. Most artists at least have one or two songs that are less than stellar and maybe would improve the quality of the album if they were left for the B-sides.
This less-is-more approach to rock has always been part of Jandroids' style in both its album structure and music. Many portions of "Celebration Rock" sound like there are four members of the band, but there are only two. This comes despite King's guitar work not being technically more than big, open chord choruses and driving, lower end verses. Don't expect a shred- fest; that's not what these guys are about. Much of King's prowess comes from his mastery of his guitar tone through the use of a giant wall of amplifiers. He is very easily able to make one guitar sound like two guitars and a bass. Combining this with much more expertly recorded drums than its previous efforts, "Celebration Rock" sounds absolutely wonderful.
However, an artist's album can easily be engineered to sound great, but mean nothing if the songwriting is flat or uninspired. Luckily, this is not the case. Every song on "Celebration Rock" feels like an anthem; powerful choruses combine with infectious vocal melodies that are easy to sing along to (and hum for days). Songs like "Younger Us" and "Adrenaline Nightshift" are definite standouts, with focus being placed on both the struggles and triumphs of being young. The album's single, "The House that Heaven Built" is also a notable track, featuring one of the most diabolically catchy verse melodies on recent memory. The album also features a cover from Los Angeles blues-punk legends, The Gun Club. Finally, try and spot the obvious Tom Petty influence on "Evil's Sway."
Though the songs all have a relatively similar structure, the writing is varied enough to where it never gets tiresome. Granted, if the album was a few tracks longer, this would be an issue. Thankfully, it's not, and every song shines.
"Celebration Rock" opens and closes with the sound of fireworks, which couldn't be more fitting. The album is a celebration of being young and wild, growing up, and never letting go of that youthfulness. "Celebration Rock" is definitely one of 2012's best releases thus far.