'Allegiance' entertains and informs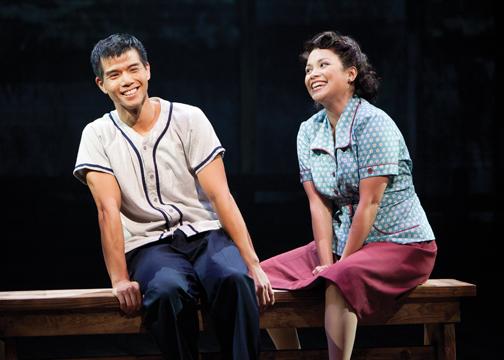 Somehow you would think a musical about an Asian- American family forced to move to a Japanese internment camp would be an angry and emotionally draining experience, leaving theatergoers feeling as if they just got punched in the gut. However, a big surprise about The Old Globe's production of "Allegiance – A New American Musical" is how optimistic and uplifting the storyline plays out.
In the opening scene, Japanese World War II veteran Sam Kimura (George Takei) is living a rather quiet existence in 2001 San Francisco. When Sam suddenly learns his sister, Kei, passed away, the news inspires him to think about the experiences that drove the two of them apart.
In the 1940s, a younger Sam, then known as Sammy (Telly Leung), lives an ordinary life and resides with his supportive sister Kei (Lea Salonga), gruff father Tatsuo (Paul Nakauchi) and grandfather Ojii-san (George Takei) until all four are forced to go to the Heart Mountain internment camp. Sammy and Kei's close relationship is threatened because Sammy wants to prove his loyalty to the U.S., which ultimately upsets both Kei and Tatsuo.
Director Stafford Arima could have made the show's plot extremely confusing because a lot of ground is covered in both acts. Thankfully, the events are expertly handled with attention to detail, not only through the wonderfully accurate scenic design from Donyale Werle, assisted by Sean Fanning, but also through the use of projection (Darrel Maloney) and sound (Jonathan Deans) systems, creating a lively sense of time and place.
With his strong pipes, natural comedic timing and perfect on- stage chemistry with the other performers, Leung is a winning presence as Sammy. Sammy's actions throughout "Allegiance" are sometimes questionable. Yet, even when he is harsh, he is sympathetic because Leung shows the audience why he chooses to display his patriotism.
Tony Award-winning actress Salonga is best known for her sublime voice which she puts to good use in several numbers, including the powerful ballad, "Higher." Salonga was so extraordinary during this number in both her performance and vocals that the crowd didn't just applaud during her rendition, but cheered enthusiastically.
It was such a treat getting to see Takei play two significant roles with wit and grace. As a grandfather who only knows a little bit of English, Ojii-san creates some of the most hilarious moments when trying to help lighten up a situation that, in reality, is quite grim.
When playing Sam, Takei displays emotional power that will surprise anyone familiar with his role as Sulu in "Star Trek." During the climax of the musical, Takei gives a beautifully touching speech. Takei's honest work during the ending, along with a bittersweet revelation, will have many people in tears.
"Allegiance" works so well because it's a celebration of humanity. I highly recommend this piece of theater, but for added appreciation, it's best to attend with someone you care about. Hopefully, it will go to Broadway and "live long and prosper."
Tickets and information on "Allegiance-A New American Musical" can be found at theoldglobe.org.