Campus extends hours for finals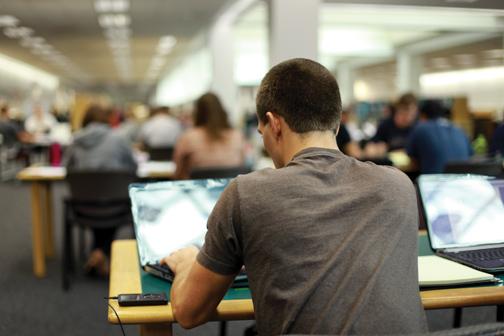 Students in need of a study getaway during finals week can find it at Love Library.
Beginning this Friday at 7 p.m., the entire dome area will remain open 24 hours a day until midnight on Thursday, Dec. 13 in an effort to accommodate the  "finals rush." For safety purposes, students will need to show their RedIDs to enter after the main library closes.
On Monday, Dec. 10, students can take a few hours to recuperate at the Midnight Study Break. The event, which is free and open to all students, will be held at 9 p.m. at East Commons and will provide a free breakfast, door prizes and study tips.
Biology junior Nicole Conner said the Midnight Study Break can be extremely beneficial. Conner attended the event last semester with a study group and used the time to prepare for upcoming finals.
"We were all teaching each other and we all learned the material a lot better," Conner said. "I felt way more prepared for the exam."
San Diego State's "Top Ten Tips for Success at SDSU" outlines general advice which may come in handy during this time of the semester.  Students are advised to seek out quiet study locations—such as the library, study halls or empty classrooms—and avoid cramming or procrastinating by managing time wisely.