Low-floor cars incorporated to all San Diego trolley lines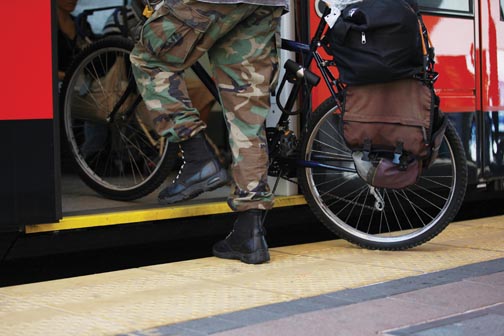 The San Diego Metropolitan Transit System commemorated the completion of the second phase in a three-part renovation project on Jan. 9.
The $720 million Trolley Renewal Project, which began construction Fall 2010, is divided according to the three San Diego trolley lines: the Green, Orange and Blue lines.
Funded by TransNet sales tax, state bonds and federal money, costs for the project included $271 million to purchase 65 low-floor cars from the Sacramento-based company Siemens. The 81-foot-long cars were first installed on the Green Line, making the trolley cars an ideal size to be used in downtown without blocking intersections.
The installation of low-floor cars, which are level with station platforms, is meant to eliminate the need for wheelchair lifts, therefore making boarding and exiting easier for all passengers.
San Diego State homeland security graduate student David Lucero has been riding the trolley to campus from his home near Palm Avenue for about six years. He said the switch to low-floor cars makes the trolley system more time-efficient.
"They're a lot more effective in getting people on and off the trolley, especially the handicapped," Lucero said. "It makes things go by a lot easier."
He added the floor-level cars are also helpful for elderly passengers and people carrying cargo to and from the trolley.
In addition to the low-floor cars, the project includes improvements for station platforms, shelters and signs.
MTS marketing coordinator Jamila Hillebrand said the company's goal is to improve the trolleys by "not only improving their looks, but their service as well." She said the time saved with the low-floor cars allows MTS to provide faster, smoother and more comfortable rides for passengers.
With renovation on the Green and Orange lines complete, the company will begin work on the Blue Line in April. Hillebrand said the final segment of the Trolley Renewal Project should be complete next year.