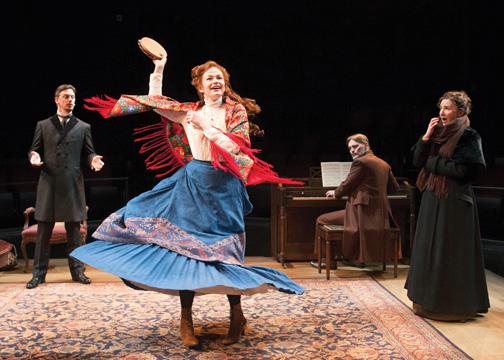 Henry DiRocco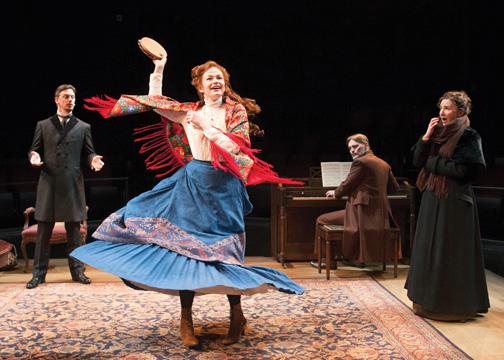 Fans of theatre may know of the naturalistic drama, "A Doll's House," because of its famous ending, which was considered controversial in the 1800s. This knowledge doesn't ruin the impact of The Old Globe's production of Henrik Ibsen's popular play.
Set in the Helmer family parlor, Nora Helmer (Gretchen Hall) is in a seemingly happy marriage with a loving, but controlling husband, Torvald Helmer (Fred Arsenault). What Torvald doesn't know is Nora is hiding a financial secret that could jeopardize their marriage.
Ibsen's script, which was translated and adapted by former San Diego State professor Anne-Charlotte Hanes Harvey, and also adapted and directed by Kirsten Brandt, opens with ironic humor. Similar to another Ibsen classic, "Hedda Gabler," there are a lot of warped laughs at the expense of the female protagonists. This is because Nora starts out as a naive childlike adult and doesn't realize her husband is keeping her from growing up.
Once the information Nora is hiding from Torvald is revealed, morally ambiguous questions are presented—many of which are never completely answered, but are left up to interpretation.
This is evident in the acclaimed final scene, which at first seems like the story is tied in a neat bow. However, it soon becomes clear that the conclusion is open-ended, with many situations left unresolved.
Sean Fanning's scenery in the Sheryl and Harvey White Theatre is extremely detailed and serves a metaphorical purpose. The set symbolizes Nora's materialistic world and, while the parlor looks nice, there's something cold and artificial about it.
Paul Peterson's sound design adds symbolism with the audio footage of waves crashing. The purpose behind this is revealed in a monologue Nora gives near the unforgettable finale.
Hall captures Nora's naive innocence, as well as her neurosis about maintaining the appearance that everything in life is fine. Hall's powerfully implosive performance is especially effective because of her subtle nuances.
Arsenault, who's married to Hall in real life, starts out as a man who seems generally calm and relaxed. In Act 2, Arsenault has to emote intense rage and fury, which was the darkest and most unnerving part of the show.
Of the supporting players, I was most impressed with Richard Baird, who plays Nils Krogstad, the man who knows about Nora's indiscretion. Instead of portraying him as a heartless villain, Baird's intensity allows spectators to understand why he would put Nora in jeopardy.
Nisi Sturgis also stands out as Kristine Linde, a friend of Nora's. Sturgis' depiction of Kristine is sad but hopeful, for life was not as kind to her. Despite her harsh reality, Kristine acts as a moral compass for her childhood companion.
With thought-provoking direction from Brandt,  "A Doll's House" packs a punch. What could have been a dry and dated period piece instead continues to make an emotional connection with the audience.
Tickets and information about "A Doll's House" can be found at theoldglobe.org.