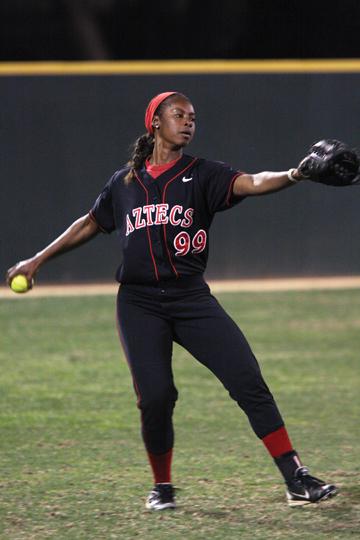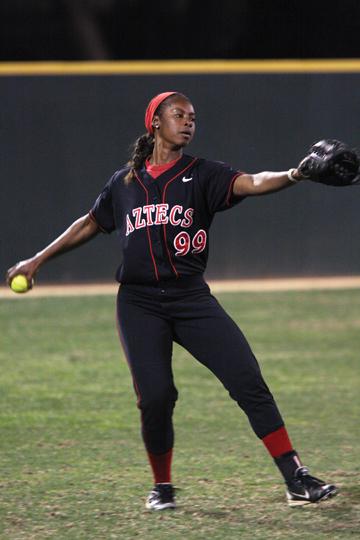 After staying perfect in conference play and winning 13 consecutive games, the San Diego State softball team fell short of completing a three-game sweep at the University of Nevada, Reno, taking its first loss in Mountain West Conference play. The Aztecs took two of three games from the Wolf Pack and are now 5-1 in the MWC.
Game 1: San Diego State 6, Nevada 3
The Aztecs arrived in Reno, Nev. looking to continue their 11-game winning streak, and they did. Junior outfielder Patrice Jackson hit a solo home run in the third inning to put the Aztecs on top early. The offensive attack continued as senior first baseman Kamerin May hit a two-run homer in the fourth, while freshman third baseman Kayla Bufardeci added an RBI single. Starting senior pitcher Rebecca Arbino dominated, pitching a full seven innings, striking out eight batters, while allowing just one earned run. As a result, Arbino improved her record to 14-7.
Game 2: San Diego State 8, Nevada 1
Winning in a dominant fashion, the Aztecs powered their way to continue their winning streak in game two against the Wolf Pack. Junior utility player Lorena Bauer put the Aztecs on the board first hitting a solo shot in the second inning, her ninth home run of the season. Jumping out to an early
1-0 lead, SDSU never looked back. Senior catcher Kristen May hit her first home run of the season in the fourth inning, while Jackson also homered in the seventh. This allowed freshman pitcher Danielle O'Toole to pitch a complete game, going seven innings, recording four strikeouts and allowing just one earned run. O'Toole improved her record to 10-5 on the season. It was the Aztecs' 13th consecutive win, which tied a school record.
Game 3: Nevada 4, San Diego State 2
Looking to complete a three-game sweep in Reno, the Aztecs fell just short in this one as the Wolf Pack managed to rally late. Although Jackson hit her tenth home run of the season in the first inning, it wasn't enough for the Aztecs to hold onto the lead. With SDSU leading 2-1 in the sixth inning, the Wolf Pack rallied for three runs with two outs in the bottom of the sixth. Junior second baseman Karley Hopkins hit a two-run double to give the Wolf Pack the lead, while freshman utility player Megan Sweet tacked on another run with an RBI single to give Nevada a 4-2 advantage heading into the seventh. The Aztecs couldn't manage to get anything going in their last at-bats, as the sweep slipped out of their hands, snapping their 13-game winning streak. Arbino took the loss and now stands at 14-8 in the circle. SDSU will look to start a new winning streak as the team faces Cal State Fullerton next in a non-conference game at 6 p.m. this Wednesday in Fullerton.