"Resident Evil 6" released for Xbox 360 and PlayStation 3 in October 2012, and more recently for PC in March. Capcom took five additional months to develop and release the PC version, only to leave it unsuitable for a keyboard and mouse. In "Resident Evil 6," players have the ability to choose from three different storylines: series regulars Leon or Chris, or newcomer Jake, who is the son of series villain Albert Wesker. The game includes multiplayer capability, enabling gamers to play with a friend who is in the same room or on the Internet. This creates separate tasks for each player while working together toward the same goal. It was evident that Capcom spent a large amount of time focused on the multiplayer feature.
When beginning Chris' storyline, I was forced to play what was supposed to be a quick tutorial. Capcom included this to ensure that players would become comfortable with the keyboard controls movement, and various camera perspectives. The tutorial left me feeling overwhelmed and uncomfortable with the awkward controls and the constant camera angle changes. It was not informative enough to teach me the keys needed for gameplay. To set what seemed like endless amounts of controls was a grueling process, and it was nearly impossible to remember all of them.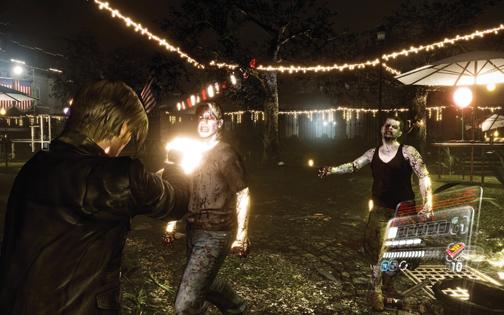 Throughout the lengthy missions, there are rarely any breaks of suspense. There are constantly zombies to kill, puzzles to complete and people to hunt. This keeps the game interesting. However, without a pause button, it makes it difficult to step away to grab a drink or let the dog out. Picking up the game days later makes it challenging to get back into the swing of things. I found myself having to constantly check what my controls were, and there really was no time for that. Players are immediately thrown into action and expected to be on top of things. Generally, all PC games use the same set of controls and one camera angle, which makes going from game to game seamless. But, "Resident Evil 6" is a mess. The camera views constantly change, even within the same five-second span. Not only did this leave me feeling disoriented, it also added to the game's difficulty, heightening my level of frustration.
Although the gameplay was quite challenging, the artistic elements and overall game design were very well done.  The appearance of zombies was stunningly grotesque and the look of the humans was quite realistic. Unfortunately, the cinematic transitions between missions were subpar compared to the graphics of the game itself, which left the game feeling unfinished.
Although Capcom may be great at creating games for consoles, it has not yet adapted to making its games PC-friendly. If you are thinking of purchasing "Resident Evil 6," do yourself a favor and pick it up for Xbox 360 or PlayStation 3.