Partnership brings new boats to students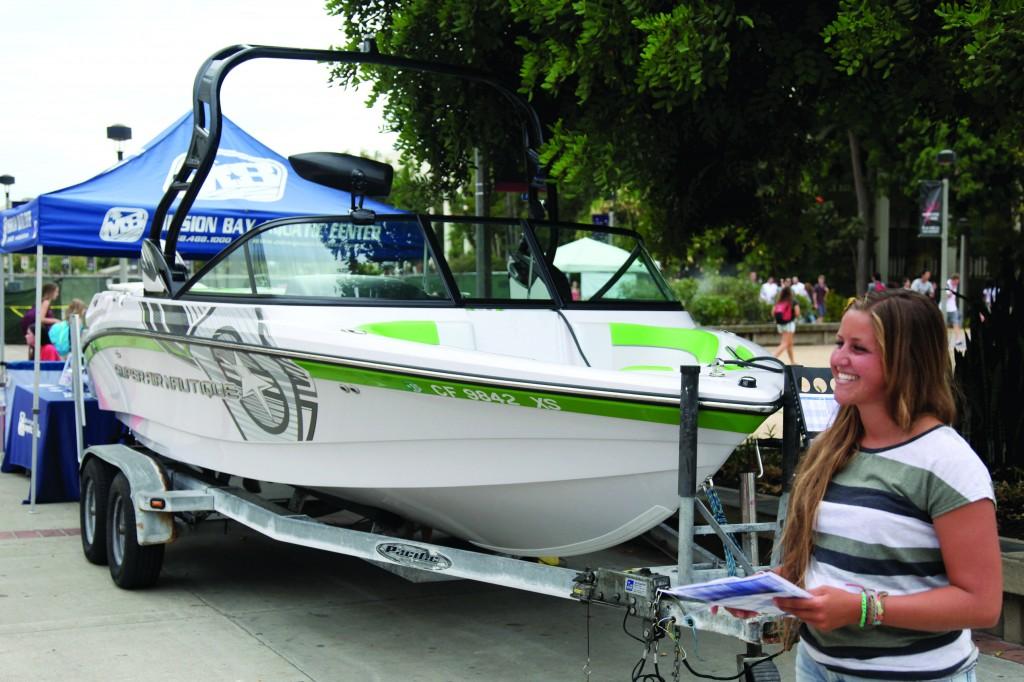 Feeling the salty water spraying in your face, the rush of adrenaline pumping through your veins, the collision of fear and excitement converging into a wide-faced grin—these are the potential effects of one's first experience planted onto a wakeboard and death-gripping a rope. With the proper instruction and a bit of courage, thousands of people successfully complete their first wakeboarding venture every year at Mission Bay Aquatic Center.
Since its conception in 1973, MBAC has been a catalyst for salty smiles, sandy skin and sunburnt shoulders. Started by San Diego State alumnus Glen Brandenburg in 1973, MBAC has stood the test of time as a leader in water sports safety and education. Its success can be credited to the MBAC's partnerships with watersport equipment manufacturers that ensure reliable, up-to-date equipment for students to use.
One of the longest partnerships that MBAC has maintained throughout the years is with Nautique Boats, a relationship spanning nearly 40 years since 1973.
"It was very small … just two parties interested in skiing and helping to grow the sport, and that's sort of how it happened, with one ski boat," Nautique Correspondent and Customer Care Manager Ron Nace said.
MBAC and Nautique have boasted the benefits of their partnership while expanding exponentially since their early days.  This partnership was recently renewed, ensuring continued use of quality equipment for waterskiing and wakeboarding.
This year brought five new watercrafts to MBAC's docks: four 2013 210 Super Air Nautiques—wakeboarding watercrafts—and one 2013 200 Sport Air Nautiquea waterskiing and wakeboarding hybrid. The boats have been long anticipated after the 2008 market crash left boat sales dwindling and placed boat donations at a standstill.
Director of MBAC Kevin Straw said, "2008 was an unusual situation.  We intend to turn them [the boats] over each year in the future."
The partnership between MBAC and Nautique equally serves both companies. MBAC uses boats for free while Nautique is able to test their new watercraft and market to everyone passes through MBAC's doors.  MBAC helps facilitate the sale of the boats to the public once the boats have stayed with the center for about a year.  The used boats are then sold at a fraction of the price to the public.  The people that benefit the most from this trade, however, are the students.
"I think it's awesome," said MBAC wakeboarding student Angie Giovannini.  "This is my first year so I only know these amazing boats which, I guess, makes me spoiled in a way."
As a student at SDSU, one has the great opportunity to be towed behind one of these professional-grade boats. SDSU and University of California, San Diego students can also get a discount on rentals and classes, including wakeboarding and waterskiing classes. For more information, check out mbaquaticcenter.com/classes.htm.