Helping Hands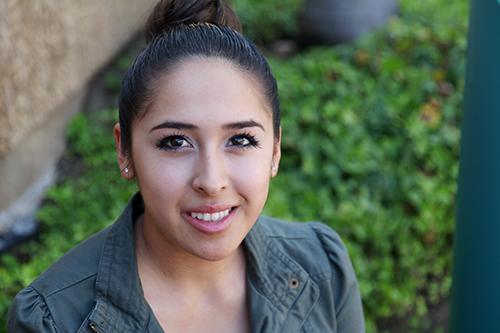 Blood is incongruous on soft hands. The liquid is pure, the skin without blemish—sublime red on a smooth canvas. Perhaps beautiful in art, but eerie in reality. Leathery hands bear blood more naturally—if something is beaten, why not bloody? While conjuring up mental images of an emergency medical technician, America's medical disaster foot soldiers. What's soft about saving lives? Adrianna Flores may change people's minds. Her dainty hands smeared with blood accomplish wonders.
Flores was recently awarded a $1000 Dream Scholarship from the Law Enforcement Education Program. The LEEP conducts a variety of services, including: instructional children's DVDs on calling 911, Students on Sobriety school seminars and Outstanding Service Awards for law enforcement officers in local communities.
But the LEEP's Dream Scholarship recognizes a broader prospective career category: public safety.
"We want the money to benefit individuals who will enter the public safety arena—whether it be the FBI, the Police, the Fire Department, federal prosecutors or emergency medical technicians," Executive Director of LEEP Richard Weiler said.  Flores won the scholarship for her "commitment to public safety" and plans to enter the medical field as an EMT, Weiler said.
"In many states EMTs do everything … If, God forbid, someone gets shot, EMTs are right there. They're essentially first responders," Weiler said.
EMTs, along with memorizing and navigating the labyrinth of city streets, adapt to whatever emergency environment greets them.  Sudden childbirths, obstructed airways, heart attacks and mentally altered people only begin to describe the obstacles these medical warriors confront daily.
"Warrior" is not often attributed to Flores on first impression. Soft-spoken with a high, lilting voice and a petite figure, nothing about Flores suggests violence.
"When they called me I was like 'What? Yay!'" she recalled cheerfully, throwing her hands in exclamation. "I wanted to have money for school because I don't get any grants or anything, but also to pay for a nursing or EMT certificate," Flores said.
So how did this smooth-palmed junior form aspirations for a callous-creating career?
"I love helping people," Flores said.
She clocked in 200 hours as a volunteer at the Antelope Valley Hospital in her home town of Lancaster—and that's just her service in nursing. In addition to being a member of various clubs and organizations, Flores volunteers for just about anything she can get her hands on.
"Once you motivate yourself to do it, you feel so happy about what you were able to accomplish," Flores said.
Flores continued her service crusade, unsure of her future profession, until she volunteered at the Parkway Hills Nursing and Rehabilitation this summer.
"Working at the home for sure helped me figure out (what I want to do)," she said.
Flores' hands, while soft, are seldom idle.
San Diego State played a role in Flores' development as well.
"SDSU definitely teaches you how to be a hard worker. Taking a lot of units teaches you time management, responsibility and how to achieve what you truly want," she said.
For Flores, SDSU is more than a requirement for a career—the school has been her dream college for as long as she can remember. She finds the question "What do you love about SDSU?" difficult.
"I love everything! It's so diverse, a beautiful campus, great professors … I remember driving on the freeway with my parents and saying 'I wanna go there someday,'" Flores recollected.
Flores' journey to actualization of becoming a part of the medical field is bright and cheery, a story she tells with warmness. But when asked what drew her to her profession, she adopts a demeanor of grave conviction.
"Being an EMT is unexpected—you just get a call and you have to be there. It's spontaneous. I also like the responsibility. People's lives are in your hands. It's up to you to save their life," she said.
At the nursing home where she volunteered, Flores learned plenty about holding peoples' lives in her hands, and that there's more to nursing than the medical side.
"You have to be very loving. You're their only friend in the world.  People don't visit them," she said.
Flores' dedication and soft touch, essential in the nursing world, could be just as effective at emergency sites.
Flores holds no illusions as to what the EMT life entails.
"People don't think about how the EMTs are feeling.  Some situations can be really shocking. And if they make a wrong move, people judge them," she said.
Despite this, the thought of the gruesome, catastrophic scenes Flores will witness as an EMT doesn't phase her.
"It's definitely hard, but it's part of your job. Somewhere in your mind you have to think, 'This is the best I could do.' You have to separate yourself from the situation, but still be sympathetic," she said.
Soon enough she will depart daily in a blaze of red and blue lights, sirens heralding her approach to the scene of calamity and possibly death. Perhaps Flores, with her healing-hands style of nursing, will care for bloody San Diegans in a way stitches, defibrillators and tough-skinned physical strength can not.