Lady Aztecs gear up for Tiger Classic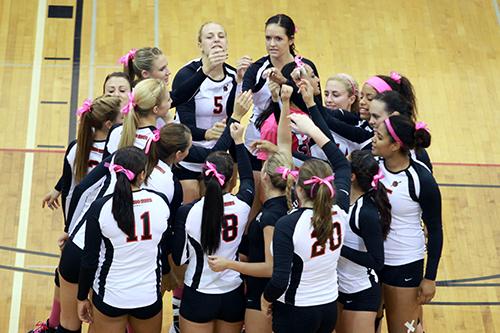 The San Diego State volleyball team will kick off the season this week in its campaign to defend the Mountain West Conference title.
The Aztecs have been named the preseason favorite from a poll of the Mountain West Conference's 11 head coaches. They collected nine first-place votes and 99 total points. The remaining two votes went to the 2012 co-champions, Colorado State, who picked up 90 total points. The University of Nevada, Las Vegas was predicted to finish No. 3.
Two SDSU players also picked up MWC preseason accolades, including senior setter Johnna Fouch being named as the 2013 MW Preseason Player of the Year. The Redlands native was placed on the preseason all-conference team as the designated setter and is one of the top returners of that position in the conference.
Fouch is a two-time all-MW honoree and the only player from the 2012 all-conference team to be honored again this year. Senior outside hitter Raegan Shelton joins Fouch on the preseason all-conference team.
Five freshmen and one transfer join the 2013 roster. Freshmen Baylee Little from Gilbert, Ariz. and Cassie O'Hara from Victor, N.Y. will look to make an impact this season as middle blockers. They both received all-state honors during their high school careers.
Sophomore middle blocker Jessica Pino comes to Montezuma Mesa after spending a year at the University of California, Santa Barbara, where she played in three basketball games for the Gauchos.
[quote]"This is an exciting year, we have six to eight seniors who want to take this team to the highest level we can," Fouch said. "We have all the tools to be great and we are excited to get started."[/quote]
The Aztecs travel to Baton Rouge, La. this week to play in the Tiger Classic. The first matchup comes against the University of California, Davis on Friday with the remaining two games Saturday being played against the University of Texas at San Antonio and the host school, Louisiana State University.
[quote]"I think we will face good matchups at the Tiger Classic," Fouch said. "All the teams we play are pretty good so it's going to be a good test for our team."[/quote]
On Sept. 13, SDSU will play its first home game of the season at the Aztec Court against Harvard University in its opening match of the annual Aztec Invitational.