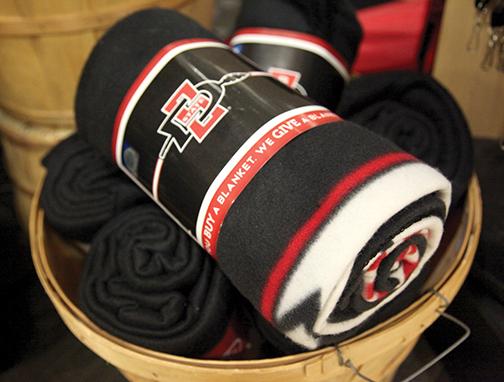 With summer coming to an end, the autumn leaves will soon start to turn yellow and the air will get a little bit chillier. Flip-flops will be substituted with boots and sweatshirts will become the uniform among Aztecs on campus. Even though it may be hard to imagine a cold night in sunny San Diego, it is a harsh reality for thousands of people in the city.
The San Diego County Regional Task Force on the Homeless (RTFH), an independent nonprofit, keeps count of the homeless people in San Diego. Their most recent report shows there are a total of 8,879 homeless people in the county. In the city of San Diego, RTFH reports there are 5,733 homeless people, accounting for 64.6 percent of the county's total.
The thousands of homeless in the city, including those in the area around San Diego State, live on the streets with little to nothing. The weather will soon start to cool and keeping warm will become increasingly difficult. For many, a warm blanket can make all the difference in the world.
As an effort to assist the homeless in keeping warm, With a Purpose, a local non-profit, provides blankets to those who need them. Founder Joshua Helland started With a Purpose after witnessing homelessness firsthand while working with other nonprofits. He saw the need for sleeping products and with his business background, created a company that parallels the idea behind TOMS.
When someone buys a blanket from With a Purpose, a person in need receives a donated blanket. A blanket for a blanket.
After more than a year of building his company, Helland wanted to make a sustainable product that would also give back to the community.
"It's so hard to start a brand from scratch, so I looked for something that people are passionate about," Helland said.
Currently, With a Purpose is selling three college-branded blankets. Anyone can go online and buy a blanket with a logo of the Kansas Jayhawks, Louisiana State Tigers, and of course, SDSU Aztecs.
"It was like a light bulb, 'Oh my gosh, college blankets!'" Helland said.
Helland's company is still relatively new, but blankets with many other college logos are currently in production. When someone buys a college-branded blanket, a person in need who lives near the university will receive an identical fleece blanket sans logo.
Products from With a Purpose are made by Sleep with a Purpose, a for-profit social impact company also created by Helland. According to the With a Purpose website, their giveback program supports three areas of homelessness including veterans, homeless housing agencies and disaster relief organizations.
With a Purpose works with local nonprofits for blanket distribution. When enough blankets have been sold, donated blankets are sent to nonprofits that have programs with the homeless community. Helland says blanket donation events will take place during the fall, approaching the holiday season.
"When it's fall and the weather gets colder, blankets are a big need for our homeless population," Episcopal Community Services Community Engagement Coordinator Deann Ayer said.
Episcopal Community Services is one of the nonprofits With a Purpose works with for blanket distribution. As an 85-year-old organization, the local nonprofit serves around 10,000 people a year. Their Friend to Friend Homeless Outreach program will benefit from the donated blankets and will distribute them to those who need them.
"I like the kinds of marketing plans where you buy something and someone else benefits," Ayer said. "So I love the fact that we get to be part of one of those and that the product is a blanket because it's such a practical thing for the homeless population and for our clients."
Anyone can buy a blanket through With a Purpose's website, but SDSU branded blankets are now available in the campus bookstore.
Ben Eisenstein, SDSU bookstore marketing manager, said he is happy to work with Helland's company.
"It's a great opportunity for SDSU students to help out members of the community in need and get a great blanket in the meantime," Eisenstein said.
To buy a blanket and to learn more about how you can help, visit http://with-a-purpose.co/.