Ah, recess. Those were the days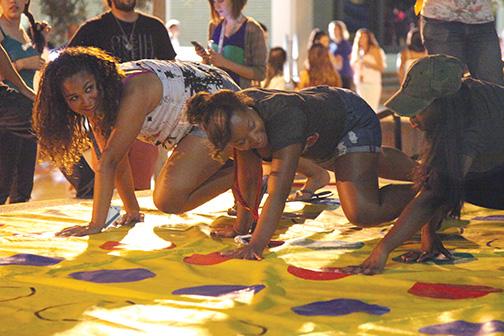 Advertised on the Aztec Nights website with "take a trip back to the childhood days," Late Night Recess featured activities reserved for the younger kids, with a little twist. The activities were listed as simple "tag and four square." What was available for this year's Late Night Recess was a little different.
For Late Night Recess, the Performing Arts Plaza turned into more of an enlarged community game center than an
ordinary late-night playground. Checker boards and chess pieces were available in a giant life-size scale. Every rook and knight piece was like a huge stuffed animal. A foosball table was there; but instead of just a two-player game, two teams were strapped into belts in a giant, inflatable foosball court as players in the game. The new foosball game at Late Night Recess required more strategy and stamina than flinging the stick.
The Real Estate Society booth handed out free candy in light of Throwback Thursdays. It was full of candies such as Airheads, Fruit Roll-Ups and caramel apple-flavored lollipops to fulfill students'sugar cravings. With nostalgic candy near the dance area, it was back to elementary school dances again, all it was missing was a bowl of punch.
Late Night Recess had a decent turnout with many of the people who attended playing games. Students rallied up a team for a huge foosball game. Another line formed for a pillow fight, while a third line was for the chess and checkers competitions. A different area was for students to dance and move along with the radio hits spun by the DJ.
The only worry for this event wasn't to get cut in line, just like elementary school recess. The future piles of homework and such were once again no longer a problem, at least temporarily, at Late Night Recess. As a cool-off event for an overwhelming first week of college, Late Night Recess was a great event to get back into simpler fun with no pressure involved.
Information about Aztec Nights can be found at go.sdsu.edu
ALSO READ: Not a bad summer for under the radar music