No tickets needed for school fair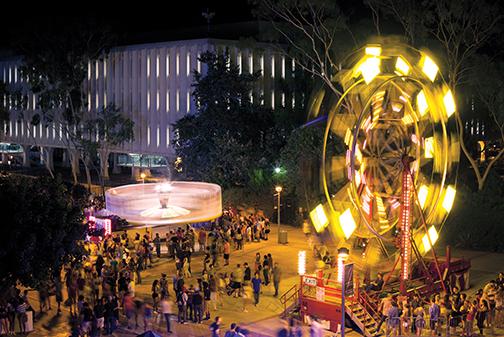 Junk food, great music, crazy rides and more. The campus carnival had it all. San Diego State successfully kick-started the semester with the most anticipated social event of Welcome Week, the annual school carnival last Friday, Aug. 30. From 10 p.m. to 2 a.m., the brightly lit carnival exhibited loads of late-night entertainment, with a variety of thrilling rides and fun games. Whether you were there to party on the dance floor or try your hand at the games, there was something for everyone.
"This is my first semester here and I heard from others that it was a lot of fun," criminal justice junior Rebecca Inbody said. "I love that they have everything here, and
that I am actually winning at table booths."
The festival gave new and returning students a chance to meet others and have an exciting time with their fellow peers. It was a fantastic opportunity to kick off the start of a new semester.
Being a transfer student myself, attending the fair was a great way to "let your hair down,"  and have a blast after a hectic and busy first week of school. Since this is my first semester at SDSU and I know few classmates, I looked forward to attending this carnival. It gave me the opportunity to reconnect witH peers and socialize with people I would normally not have the chance to hang out with.
One of the carnival ride hits was the "Roundup" where students were secured on a circular platform in a vertical cage-like wall and spun around at exhilarating speeds. Other popular rides were the Ferris wheel and the swing ride.
"The carnival is the best event of the year, the Roundup would definitely be my favorite ride here because it spins so fast," said transfer Aztec junior and geography major, Greg Brown said.
Other students were also enthusiastic about how much they enjoy the campus carnival. " I came last year and the carnival was a lot of fun, so I make it a point to attend all the school events this year," SDSU sophomore and biology major, Katey Bleidistel said.
Attending Aztec Nights is one of the best parts of being an Aztec and provides a memorable college experience. Students get a chance to have a party on campus for free and enjoy the company of friends.
Information about aztecnights can be found at aztecnights.com.
ALSO READ: Aaron Mento dares to try new things

Information about Aztec Nights can be found at aztecnights.com.