Sushi Do replaces Taco Bell, students voted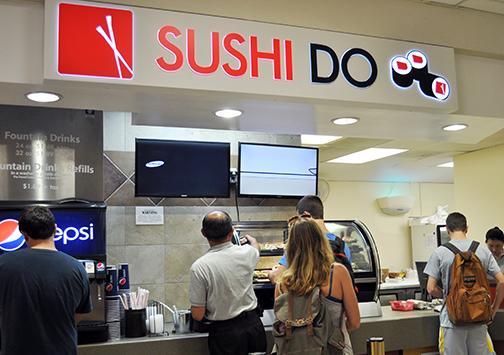 In an effort to bring wholesome food choices to campus, San Diego State Dining Services has replaced the former West Commons Taco Bell with Sushi Do, an authentic Japanese-style sushi restaurant.
Each fall, SDSU Dining Services puts together a survey asking students what food options they would like on campus, and results have repeatedly shown students want healthier choices.
Sushi Do offers a variety of fresh sushi made daily on the premises, whereas Taco Bell had previously served premade and reheated food. Although Sushi Do does have a higher bill average, Dining Services said it was a better food option to have on campus.
Criminal justice freshman Brooke King said she would definitely recommend Sushi Do to her friends and fellow students.
"It reminded me more of a grocery store sushi counter just because the sushi is put into a case and then you choose instead of ordering what you want," King said. "The sushi itself tasted good and it was fresh."
SDSU Dining Services Director Paul Melchior, values student opinions about improving dining options on campus. Like many students and faculty, Melchior eats on campus daily and said it's important to have a constant variety.
"We're continually evaluating every time we get an opportunity to replace something with something healthier," Melchior said.
SDSU has made attempts to offer nutritious options for students, however, geology sophomore Brenna Hess does not believe they are truly healthier choices.
"The only real healthy food option on campus is Olive Oil Organic Cafe in West Commons and even that isn't the healthiest," Hess said. "I hope Dining Services takes out some of the places we have now and replaces them with better options for students in the future."
On Sept. 2, SDSU received Green Restaurant certification from the Green Restaurant Association for its restaurants and dining services. The GRA is a nonprofit organization that provides certification for restaurants that have become more environmentally sustainable. Of the 30 green restaurants in San Diego, 12 of them are SDSU restaurants and services, Melchior said.