SDSU remembers Sept. 11 attacks with campus ceremony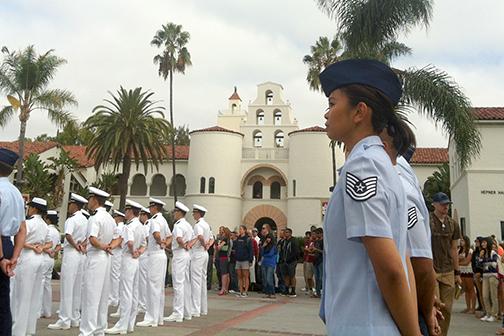 San Diego State's Army Reserve Officer's Training Corps held a ceremony Wednesday morning to honor the lives  lost in the Sept. 11 terrorist attacks 12 years ago.
ROTC cadets from the U.S. Army, Navy, and Air Force assisted Lt. Col. John Turner and Maj. David Powell in the planning of this ceremony.
Turner said aside from the tragedy, loss, and sacrifice resulting from the attacks, there is also a hopeful reminder.
"It has united us, and strengthened our resolve, and united us as a country," Turner said. "We have ceremonies like this to make sure we don't forget what happened on that day 12 years ago."
A crowd gathered in front of Hepner Hall at 10 a.m. to watch as ROTC cadets lowered the flag to half-mast. The bugle call was followed by a short prayer to an audience that included SDSU President Dr. Elliot Hirshman, Provost Nancy Marlin, Commanding Officer of SDSU's NROTC Unit Patrick Rabun, faculty and other attendees.
"It's good, no matter where you are, that as an American citizen you take the time out of your day to have a moment of silence and say a prayer, and it's good that I can do that on my campus," liberal studies sophomore Denise Jenkins said.
The ceremony concluded with a moment of silence, so attendees could have a chance to remember those lost in the Sept. 11 attacks.
"I think it's a very important tradition that we recognize the events of Sept. 11; that we remember them," Hirshman said. "And especially, that we think about ways to move forward in an environment that supports peace and harmony …"