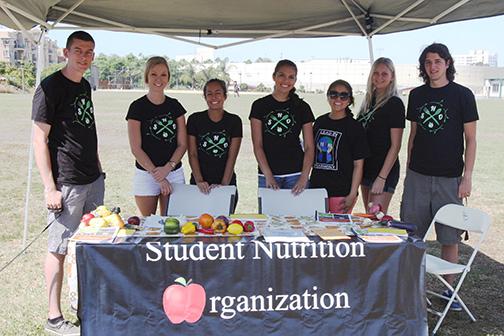 The newly established Doctorate of Physical Therapy Student Association of San Diego State hosted its first health expo at the Exercise and Nutritional Sciences Field on Saturday, Sept. 14.
The BeneFIT fair provided attendees with educational opportunities to enhance their knowledge and skills about healthy living. Monetary funds were donated to the Southwest Sports Wellness Foundation, anonprofit organization that aims to support young athletes and medical professionals in the local community.
"For physical therapy students to decide to donate to our foundation was really cool and for them to give up their time to put something like this together is hard to do," SWSWF Treasurer and President of Manual Orthopedic Physical Therapy, Inc., Mike Stein said.
Event coordinator and President of the Doctorate of Physical Therapy Student Association Brittany Pogue provided a variety of activities for the multiple avenues of health and wellness.
"We wanted to give back to our community and let them know that we are here as a new program," Pogue said.
Community-based projects are a major focus for the association. A huge accomplishment for the program was coordinating an event for the public, Professor and Director of the Doctor of Physical Therapy Program, Dr. Mitchell J. Rauh said.
"For me, this a big step for the students to go this route," Rauh said.
One of the many activities came from Tracie Arlington, lead instructor and owner of Play It Safe. Arlington said she strives to empower women by teaching them lessons to avoid becoming victims of rape.
Other activities included hands-on CPR classes from the American Heart Association, Glucose Testing from the Family Health Centers of San Diego, Massages from Rehab United, Skin Cancer screening offered by the Alvarado Dermatology Clinic, Tai Chi lessons from the Parkinson's Association of San Diego and an informational booth for kids.
The Pita Pit, FRS Healthy Energy Drinks, Pitaya Plus and Juice It Up presented the fair attendees with healthy food and drink options. The Student Nutrition Organization participated in the fair by offering fundamental health tips.
Doctorae of Physical Therapy Student Association member Arnold Lazaga said students sometimes get overwhelmingly focused on studying.
"In our profession, we have to care about other people," Lazaga said. "The people that need us the most aren't necessarily out in our clinics or international, but they are here on our campus."