Students shine at SDSU Film Festival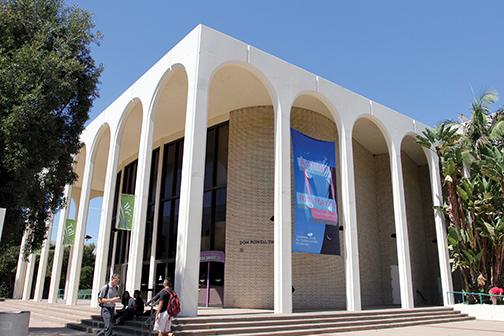 The Television, Film and New Media program at San Diego State held a casual student film festival at the Don Powell Theatre on Sept. 12 and 13.
The event drew a large crowd on the first day, and a substantial turnout on the second. The roster of movies included recent award-winning student films such as "Corollary" by Leal Naim and Riley Dufurrena, and "Big Kid Stuff" by Michael Weybret.
Friday's presentation included a brief speech by professor Greg Durbin, who commended the effort and talent of former TFM student and SDSU alumnus Destin Daniel Cretton. Cretton wrote and directed "Short Term 12," a feature-length motion picture currently playing in select theaters. Crowd favorites at the festival were shown both days, including "Plane White Tee," directed and written by Clay Southerland and Devon Dolan. This story, one of the longest with a running time of almost 18 minutes, felt similar to a made-for-TV teen drama that contained elements similar to "Freaks and Geeks." "Plane White Tee" seems destined to have a sequel, yet the plot has a satisfying resolution.
The other crowd favorite was "The Roommate," directed by Philip Behnam. This funny mockumentary could be transferred to other colleges and claimed as their own, but it was filmed entirely on campus in the undergraduate residence halls. The actors (if they were indeed acting) presented personalities that undeniably capture a large part of the incoming freshmen population. Whether or not this is a negative portrayal, the flick was made in good humor to bring to the screen the visual of what everybody already knows exists.
In contrast, not all the selections were comedic, most notably a group of quality shorts that bring awareness to political, cultural and environmental injustices happening around the world. These silver screen dramas were, "A Bengal Tiger in the Bagdad Zoo," directed by Nick Hoskins; "La Familia de Sofia," written and directed by Alexandra Parral; "Uprooted," written and directed by Nadir Bouhmouch; and the documentary "Plastic Seas" by Jeneene Chatowsky.
Other standouts were the fun and classy documentary "Of Beaches and Beer," created by Ben Moxley, Tana Rule, Raeanne DuPont and Steven Moyer. The lighthearted adventure focused on the growing brewery culture right here in San Diego. Shaun Sauer's "Zombie Ball" gets an A+ for the best use of campus locations and an amusing soundtrack. And last but not least, Baifan Xie's "INCH" presented an interesting script that tested the boundaries of friendship and the notion that "sometimes you just have to spell it out for them."
ALSO READ: 'Shot Term 12' lives up to honors
Photo by Monica Linzmeier, photo editor