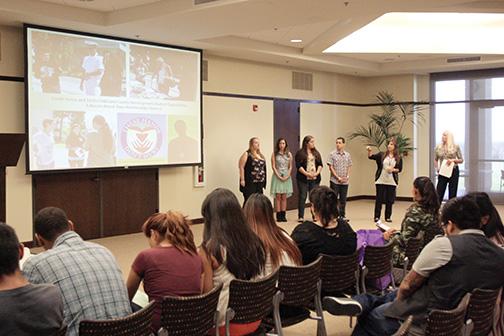 San Diego State hosted an event Saturday to spread awareness of domestic violence in the community.
More than 50 students and community members attended the Break the Silence Against Domestic Violence Leadership Summit conference, started by SDSU alumna Kristen Paruginog after she filed a permanent restraining order on her ex-boyfriend.
The organization reaches out to younger generations through social media, including Facebook, to encourage victims and their friends to speak out and get help, Paruginog said.
"I created a Facebook page … and shared my story publicly for the first time. Little did I know that millions of people worldwide would do the same," Paruginog said. "We are creating a movement where people are 'breaking the silence' and not being silent about being in an abusive relationship."
The Facebook page has supporters in 50 countries around the world and receives about 90,000 views every week.
Guests attended the event for several reasons. Some were there to represent those who have succumbed to domestic violence, others were victims themselves and some supported friends.
Maria Solis, 17, shared her story with other high school students to empower victims and let them know they aren't alone.
"The first year of our relationship wasn't bad; the second year is when things went bad," Solis said. "I contacted Kristen and told her what was going on. After that night I stopped talking to him."
Throughout the process, Solis said she has made friends through the organization and uses those connections to heal from her past relationship.
Break the Silence Against Domestic Violence treasurer Alfredo Villalba met Paruginog a year ago at the Hope in the Park event that was put on by the San Diego Domestic Violence Council.
"The mission is to (provide) resources for those who have been involved in domestic violence," Villalba said.
Villalba, who works with San Diego County's Behavioral and Health Services, provides Paruginog with several speaker opportunities through his connections.
The event had lectures that focused on healthy relationships and how to get help for those in an abusive relationship. Many of the speakers had been through violent relationships and now use their stories to encourage others that may be in similar situations.
Paruginog said she will continue to travel the country to get the word out in hopes of "inspiring people to 'break the silence.'"
Several resources can be found online and through Break the Silence Against Domestic Violence's Facebook page at facebook.com/breakthesilence1.