Picasso show is not just for his fans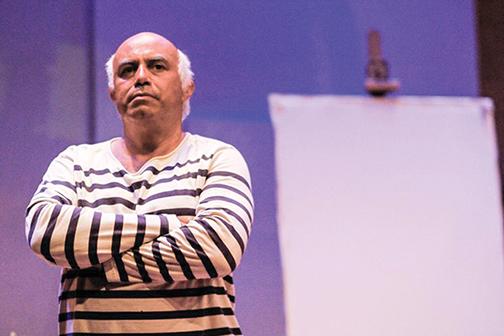 Picasso-a household name. However, when a person hears it, how much does he or she actually know about this extraordinary man? Unless the person spends a weekend with Picasso, the persona pertaining to this famous icon won't be revealed. Unfortunately, the artist is dead. Thankfully there is a more practical way of getting to know him.
The San Diego Repertory Theatre presents, for a second time, the one-man play performed by Culture Clash co-founder Herbert Siguenza. In 2010, Siguenza created "A Weekend with Pablo Picasso" here in San Diego as part of a workshop production. He has recently been traveling to share this exquisite piece of drama with audiences throughout the U.S.
During this flawless and thoroughly researched performance, spectators are unexpectedly invited to live with Picasso for a few days in his France home in 1957. Siguenza immediately addresses theatregoers and brilliantly makes the openness of the "room" in his house feel like an actual home, quickly turning the audience's intrusion into an intimate celebration.
The party is not without its "work hard, play harder" principle, which fits fabulously in the developing plot. Picasso is commissioned to produce several works of art in just a few days, and although hesitant at first, puts himself up to the challenge. He takes guests, who he refers to as his "art students," along with him.
Suitably, aside from the striking physical resemblance, Siguenza has a talent for drawing and painting on the spot in a style akin to the legend. A combination of traditional techniques mixed with innovative technological tools beautifully present the time lapse of montages that display the progression of Picasso's commissioned work, as well as the recurring nightmares he experiences because of the response of his famous piece, "Guernica."
Alternately, Picasso encourages everyone to see the world through a child's eyes as he utilizes several props to show observers how. His opinion of women being either "goddesses or doormats" also reinforces Picasso's promiscuous reputation. Although this speech might appear to be an attempt to illustrate Picasso's dark temperament, the overall production felt more like an indoor picnic with a close, honest, and remarkably humble friend.
Siguenza performs this role in both English and Spanish, elevating the drama to an even higher level of appreciation.
Information about "A Weekend with Pablo Picasso" can be found at sdrep.org.
ALSO READ: Talented directors tackle ambitious subject matter
Photo courtesy of Daren Scott
Sources: sdrep.org.