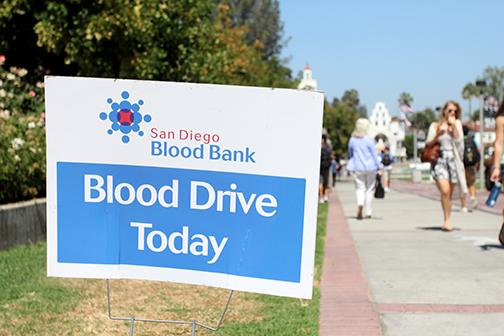 A San Diego State Muslim student organization partnered with the San Diego Blood Bank to host two blood drives on campus in remembrance of 9/11. On Sept. 11 and 18, a total of 91 pints of blood were collected.
The Ahmadiyya Muslim Student Association started last year by international security and conflict resolution senior Jameel Matin.
Its mission is "to create awareness of the Ahmadiyya community, and also to erase some of the misconceptions … post 9/11 regarding Muslims," he said.
The Muslims for Life campaign is a nationwide movement that partners with blood collectors across the country to "collect 12,000 units of blood to help save up to 36,000 lives," event organizer and San Diego chapter President Moyenuddin Sirajee said.
To commemorate the lives lost 12 years ago, blood drives were organized across 71 chapters in about 50 cities, Matin said.
Matin contacted Leslie Eagan at the San Diego Blood Bank, who gave the student organization a goal.
"It's about raising awareness about how important it is to donate … 38 donors were first-time donors," Eagan said. "We appreciate the support that SDSU gives by providing the opportunity for students to make a difference."
The association is comprised of about six students of all different faiths. The club hosts many different seminars that bring these faiths together to promote understanding and peace in all religions, Matin said.
Though the student organization doesn't hold regular meetings yet, it's focused on community outreach and awareness of Ahmadiyya, a denomination created with the life and teachings of Mirza Ghulam Ahmad, its Messiah. Ahmed condemned terrorism and aggression; he was believed to have come to end wars and violence, according to the Muslims for Peace website. The group also hands out pamphlets to educate the community.
There are three main campaigns that the Arimadi promote: Muslims for Peace, Muslims for Loyalty and Muslims for Life. All three have separate goals, but have the same mission of "eradicating the misconceptions associated with Muslims and to demonstrate that serving your country is part of the Islamic faith," Matin said.
For more information, go to http://www.muslimsforpeace.org or http://muslimsforlife.org.