True hikers prefer to get lost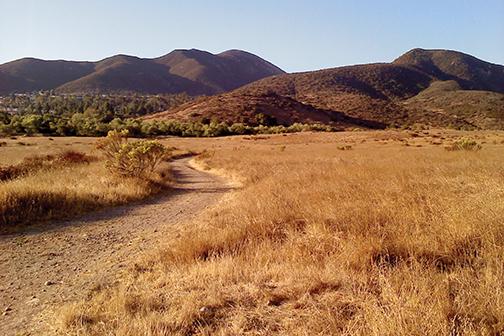 Getting lost is a rare and beautiful thing in today's world. Earth is connected by the Internet and mapped with GPS. Encountering alien situations and experiences is difficult from the average American couch. One of the few paths to the unknown is exploring what's left of nature through hiking.
In its purest form, hiking is exploring and adventuring into a reality far different from the everyday circuitous mass of steel and neon lights. Popular workout spots such as Cowle's Mountain and Mission Trails Regional Park are fun, but for a truer nature experience one might endeavor to search elsewhere.
Freeways stretch like belts across California, constricting and distorting space until hundreds of miles are measured in hours. A small path passes right underneath one and into the land beyond—the land north of Mission Trails Regional Park.
Two major routes end in the solemn concrete pillars supporting state Route 52. Originating near the Old Mission Dam, Oak Canyon Trail is a shady route complete with foliage, riverbeds, and several bends. The Grasslands Crossing trail (called the North Fortuna Mountain Summit trail online, another map deception) begins farther east in Santee proper, a dryer and straighter approach. Both trails end at a pass between two hills; the SR 52 spans the gap above and its imposing supports create a massive arch below. A lone path runs through.
The landscape is beautiful enough to liberate weary suburbanites long before either trail approaches the freeway. Coffee-colored mountains rising out of a golden chaparral sea greet hikers along the eastern route. The SR 52 trail begins as a passage walled with trees—a corridor from this world to the next. Passing under the freeway and out into the north beyond, the natural world confronts one immediately: glittering blue beetles, bushes of pale green and burnt orange, tiny butterflies in muted red, rabbits flee from footsteps and light traverses spider spindles in tiny golden beads. Even though most San Diegans can't tread silently like the Kumeyaay did, the fleeing wildlife is still enjoyable.
Few hikers venture through this isolated area. Most zoom by on bikes, thinking only of speed and calories. Even a bicyclist, however, can't hope to cover the whole expanse. The trail continues north, but offers side paths heading east and west up the hills that provide amazing views. The offshoots are splayed out like a web: trails weave through little hills and valleys all the way to Poway. From the SR 52, the trails appear to go on forever. Perhaps this ceaselessness is why the bikers speed by—what do you do when you come up against something that seems to go on forever? Hikers searching for this exact feeling should put on their hiking boots and set out for Santee.
Photo by Richard Freeland, staff writer