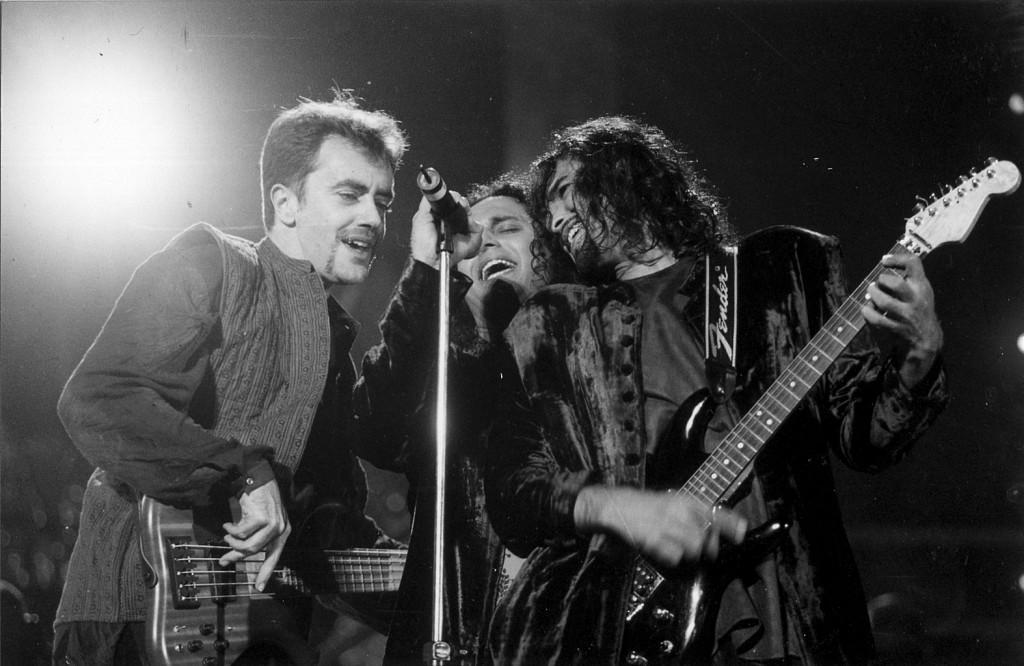 Common Chords, a group that celebrates Jewish, Muslim, Christian and Hindu music, will perform on Oct. 3, at 7 p.m., in the Smith Recital Hall. SDSU's Artist-In-Residence Yale Strom and the rest of the band will jam for free for students, faculty and staff with a RedID. Salman Ahmad, a well-respected musician, certified doctor and teacher at Queens College will also be performing.
He recently answered questions for The Aztec.
The Aztec: Tell us a little bit about the history of Common Chords.
Salman Ahmad: I love playing with musicians like Samir Chatterjee and Yale Strom who use music to build bridges of peace. We met back in 2007 at Queens College, where I teach a music course. My friend and history professor, Mark Rosenblum, introduced Yale to me and we've been jamming ever since.
TA: What is the band's connection to SDSU?
SA: Yale's a professor at SDSU and a long-term California resident.
TA: What kind of music do you perform?
SA: I've been credited by a New York Times writer, Jon Pareles, for creating a hybrid called Sufi rock and being the U2 of South Asia. My musical influences include classic rock, Qawwali (South Asian Sufi devotional music) and Bollywood music.
TA: Have you ever performed at SDSU before?
SA: I loved performing at SDSU last time, where the audience and us destroyed the wall between us and created a circle of light!
TA: Tell us a little bit about the history of Junoon.
SA: I founded the band in Lahore in 1990. It became the biggest rock band to come out of South Asia, having sold over 30 million albums. In Hollywood, Oscar-winning actress Susan Sarandon presented a film on Junoon called "Islamabad: Rock City" for VH1.
TA: How was Junoon able to perform with famous artists such as Melissa Etheridge, Sting and Peter Gabriel?
SA: Melissa and I became close friends after we performed at the 2007 Nobel Peace Prize ceremony in Oslo. She wrote the introduction to my book, "Rock & Roll Jihad," and we also recorded a single titled Ring the Bells. Peter Gabriel has been a mentor and an inspiration of mine for a long time. Peter also shares my love for Nusrat Fateh Ali Khan and Qawwali music. I asked him to sing and play on my song "Open Your Eyes," which I wrote for the victims of Pakistan's floods in 2010.
TA: Have you always been interested in music promoting peace and equality?
SA: I'm a certified doctor. When I dropped my stethoscope and strapped on a guitar, I knew that healing would always be a part of my music. My wife and I also promote interfaith dialogue and girls' education through our nonprofit organization SSGWI . www.ssgwi.org.
TA: What are some of your most memorable experiences either as a musician or as a professor?
SA: Performing with Junoon at the first-ever rock concert at the United Nation's General Assembly Hall on UN Day, Oct. 24, 2001, performing the first-ever rock concert in Kashmir despite death threats by militants, and teaching students at Queens College about the power of music is pretty satisfying. This year I wrote a single called "Naya Pakistan," which is the most popular song of the year in that country. It inspired millions of young people to go out and vote for change in this year's elections.
TA: What are some future events you will be a part of?
SA: I'm performing at the peace concert in Istanbul with Chatterjee next year.
TA: What can the attendees of your concert at SDSU expect to hear on Oct. 3?
SA: Mystical ecstasy!
TA: What are the demographics of your typical audience?
SA: It's a mini planet Earth for people who want to whirl like dervishes!
TA: Any advice for SDSU students?
SA: "When you follow your heart the entire universe conspires to make you succeed." A quote from one of my favorite books, "The Alchemist," by Paulo Coelho.
Information about Common Chords can be found at commonchordsmusic.com.
ALSO READ: Dark stories by master of drama come to SDSU
Photo courtesy of Chris Ramirez