'Earnest' isn't a cookie-cutter play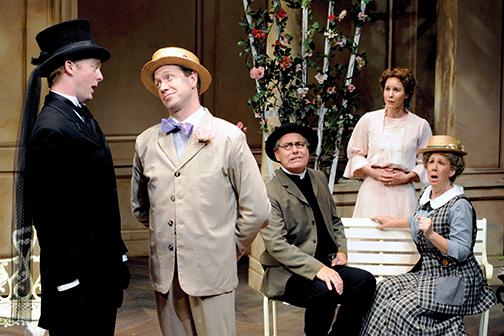 Sean Murray's, Cygnet Theatre's co-founder, extreme versatility has been on display this year. He directed a production of two Stephen Sondheim musicals, the darkly twisted "Assassins" and the more purely comedic "Company." Now, Murray is responsible for a new rendition of Oscar Wilde's verbally witty comedy, "The Importance of Being Earnest."
In the 1800s, Ernest Worthing (Brian Mackey) is hoping to propose to Gwendolen (Jacque Wilke), a smart woman who is deeply in love with him. The problem is that Ernest's real name is Jack, and he has been keeping secrets about his identity and complicated past. Once Gwendolen's mischievous brother, Algernon Moncrieff (Jordan Miller), finds out who Jack really is, many misadventures occur.
For those who have never seen Wilde's classic play before, it helps to not know much before entering the theater. Watching Jack get into one shockingly absurd conflict after another is part of the fun of the journey.
That being said, Wilde's dialogue continues to be priceless. His style of humor smartly combines sophisticated observations with broad jokes that catch the audience off guard.
Murray has assembled a perfect cast to play all the colorful roles in "The Importance of Being Earnest." Though Mackey portrays Jack as a straight man, he has lively chemistry with his co-stars, including Wilke and Miller. Some of Mackey's best moments are his reactions to out-of-control situations. His deadpan aggravation is brilliantly handled.
As Gwendolen's mother, Lady Bracknell, Linda Libby is a pleasure to watch as the most domineering actor in the show. Libby is not on stage for long periods of time, but she makes every moment count and her punch lines come at a rapid pace.
According to the program, there are some modern critics who have claimed that "The Importance of Being Earnest" contains no social messages. While this is a very light farce, I felt there were a couple of good moral messages and themes regarding being truthful and the meaning of being a human being. I have to give Murray credit for examining the deeper implications of the story, by treating semi-serious moments with intelligence and grace.
"The Importance of Being Earnest" is a wickedly hilarious feel-good tale that will hopefully become a big crowd pleaser in San Diego. Bravo, Murray, for successfully adapting the funny and legendary masterpiece for a new generation.
Tickets and information about "The Importance of Being Earnest" can be found at cygnettheatre.com.
ALSO READ: Dark stories by master of drama come to SDSU
Photo courtesy of Ken Jacques