A capella men mix machismo and music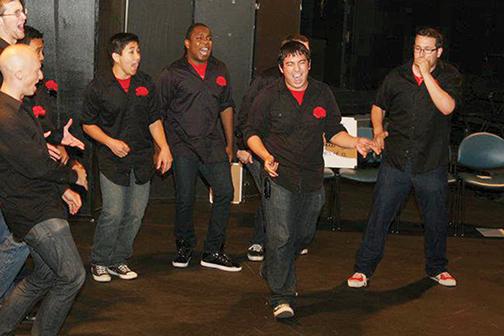 What's more attractive than a guy who can sing? The answer: a group of guys singing in harmony, using only their voices to capture the hearts and laughs of their audience. Yes, I am talking about San Diego State's own all-male a capella group, Preposterone.
The group is one of four a capella groups here on campus. The others are unique in their own ways, but Preposterone stands alone in being the only all-male a capella group.  And let's face it, the men use it to their advantage.
Preposterone was founded in Spring 2011 by current president and communication senior Matt Acevedo and recent SDSU alumnus Luke Ranieri. Having only been around for a short amount of time, the group presently has seven members and is looking forward to growing both in size and talent.
One aspect that adds to the group's uniqueness is the different levels of singing experience. Preposterone has a mix of members with a broad range of talents. Some members have had little singing experience in the past, such as only singing in their high school's choirs, while others have been singing for many years. For example, Acevedo has been practicing for the last 13 years.  However, Preposterone does not discriminate against a potential members' level of skill.
Despite differing experiences, Preposterone manages to come together and combine each of their unique voices to form one genre that fits the group's overall character.
"We like to entertain the audience," Acevedo said. "We have more comedic songs and pop songs like Bruno Mars and Neon Trees. It's kind of like a mix of humor and pop with today's hit songs."
Preposterone tries to stay away from singing One Direction songs at all costs, but has been influenced by other boy bands such as the Backstreet Boys and 'N Sync, as well as lesser-known acts.
Another distinct characteristic of the group is its use of improv to catch the audience's attention. Acevado is also the president of the Iota Eta Pi improv team.
"We are a very crowd-engaging group; we are interactive with the crowd," Acevedo said. "If you get the audience to have fun, you're going have fun too on stage."
Preposterone is a family on-and-off stage. The men try to take rehearsals as serious as possible, but when you have that much Preposterone in one room, it's expected to get crazy.
"It's a really fun group to be in; it's not super strict," group member and musicology graduate student Aaron Bullard said. "It's a group of friends hanging out; we're all actually friends outside of rehearsals. It's an enjoyable thing to come to rehearsal."
The group's main goal is to get their name and talent out there. Just a few weeks ago it held a spontaneous a capella mixer outside of Hepner Hall to raise awareness of the a capella community established on campus.
"We just have to go out and sing and let people know 'Hey, we're here," said Acevedo.
Acevedo promised the mixer wouldn't be its last. The event was more successful than the group had imagined, and it sparked the idea to continue getting its exposure around campus. In the past, Preposterone has held many of its own concerts, inviting the other a capella groups on campus and in the community to join it, as well as other a capella groups in the community. The group has also opened up for the improv team.
Competition is in the near future, but for now Preposterone is focusing on finding its voice as a group.
"We're fairly new and we still want more members, but before we start thinking about competing we have to find out our overall sound as a group," Acevedo said.
Acevedo said it wants to find a core group of members who will carry on its distinct sound for years to come before it starts competing. Being comfortable with its choices of songs is a key factor to the success of the group.
For now, the group is sticking to holding its own concerts, which are free of charge, but it does accept donations. Its first concert of the semester will be at the end of this month on Halloween. Although the name is still a work in progress ("Shock-apella Spooktacular") the group is set on wearing costumes for the event. It has invited a capella groups from around the community, including Point Loma and the University of California, San Diego.
Preposterone is also actively working to grow the a capella community here in San Diego.
"It has always been a goal of mine to get the a capella groups to bond more and get to know each other," Acevedo said.  "Because if this is something you really want to do, these are going to be the people you work with in the future. Not just here, but also expanding out to different schools. We want the a capella bubble to grow more and more."
If you're curious about the origin of the name, it came from a "Powerthirst" video Ranieri stumbled upon one day and it stuck. Preposterone is short for "a preposterous amount of testosterone," which certainly fits the guys' unique characters.
Photo by Monica Linzmeier, Staff Photographer

Editor's Note: This story originally named Zachary Hoffman as one of the founders instead of Luke Ranieri.