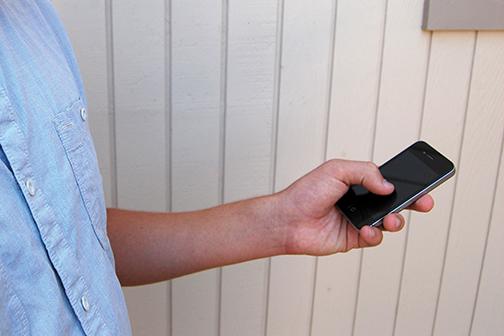 Recently, San Diego State students have received a crime alert email about twice a week regarding the theft of cell phones on or around campus.
According to SDSU Police Department daily crime bulletins, there have been at least five incidents within the last three weeks involving cell phone theft. Though the SDSUPD is constantly reminding students to keep their electronics stowed away in their backpacks or purses, some perpetrators' tactics have now evolved into having victims willingly give up their electronic devices.
SDSUPD Police Sgt. Steven Harshaw said suspects have asked to borrow peoples' phones, taking it and running from the scene. If the suspect doesn't take the device by force, the crime becomes a theft and misdemeanor, as opposed to a robbery and felony, Harshaw said.
This is an issue of pedestrian awareness, Harshaw said. He stresses that students as well as community members should be as aware as possible of their surroundings, otherwise he or she may be seen as vulnerable to potential thieves.
SDSU appears to be the only campus among University of San Diego, University of California San Diego and Grossmont College to see an influx in this type of crime, according to respective officials. However, that doesn't mean it isn't happening elsewhere.
"We have to figure out that most of the victims are college students, most are going to their residences off campus," San Diego police officer J. Alvarado said.
Unlike other campuses in San Diego, SDSU has a much higher population living within walking distance. Much of the time, these pedestrians are walking alone and not paying attention, Alvarado said.
Colleges such as Mesa and Grossmont have students who commute by car and therefore spend less time walking alone on the street. The same goes for USD and UCSD where students are either commuting by car or living on campus.
Harshaw said these criminals targeting pedestrians are "shopping." He related these occurrences to the mall, a place where customers browse many options to find the best deals.
"These people go where they can blend in," Harshaw said.
Officials highly recommend that students who are threatened with assault or robbery comply with the thief's demands and give up the property.
"Don't resist. Give them the phone and report it to the police right away, because property can be replaced, [people] cannot," Harshaw said.
Biology senior Christopher Morrissey said he has had to confront people in the library late at night while studying. Last year, he witnessed an assault related to a cell phone theft off campus and had to call the police.
"I am so scared that every time I put my phone down someone is going to steal it," Morrissey said. "I'm just waiting for it to happen,"
In addition to stowing devices out of sight while walking, SDSUPD lead dispatcher Sara Chandroo recommends all students store the serial number of all electronic devices in a safe place. This can help locate the device if someone tries to sell it. The police department has special technology that can store and search information regarding these serial numbers.
The SDSUPD strongly urges victims and witnesses to report the incident as soon as possible so police have a better chance of catching the thief and returning the property. The SDSUPD currently employs student community service officers to patrol campus on foot as well as by bike.
Find out more about recent crime at SDSU. 
Photo by Jenna Mackey, Staff Photographer.