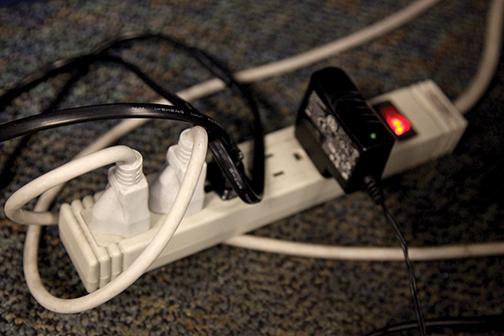 With the advent of its new blog, the award-winning San Diego State PowerSave Campus Program is reaching out to students to inform them about environmental issues.
"Our purpose is to bring energy saving, sustainability and conservation to college campuses," PowerSave secretary and biology sophomore Eliana Moustakas said. "We do it through promoting the green workforce, through the academic involvement−going into classrooms and talking to people."
PowerSave team manager and sustainability and psychology senior Kristian Salgado said the program approaches its work with students through different themes.
"During the October season we are going to concentrate on phantom load," Salgado said. "When you leave devices plugged into the wall, even when they are not in use, they still consume energy."
The PowerSave volunteers and interns go out to classrooms and have students measure how much energy is being wasted when devices are left plugged in overnight.
"We have a calculation that says how many kilowatts it takes," Salgado said. "Phantom load is known to add an additional $200 to a household's yearly utility bill."
Salgado explains the easiest way to solve this problem is to plug all devices into a collective power strip that can then be used to regulate electricity usage.
"This is just one of the many ways we educate students on energy conservation," Salgado said.
Another effort SDSU PowerSave has been working on is their semester-long Academic Infusion project where it would presents Professional Studies and Fine Arts 100 "Sustainable Development" with lectures.
"Our goal is to provide students with a well-rounded experience," Salgado said.
On Nov.7, PowerSave is hosting its second annual green Speed Networking event, where it merges students and professionals for short question and answer sessions.
"Last year, environmental planners, analysts, and engineers from a host of sectors helped make the event a huge success," Salgado said.
SDSU PowerSave also works on trying to get the campus to use energy-efficient equipment and biodegradable materials.
"We tend to put together a very extensive argument," Salgado said. "It is not so much that people don't want to invest in (sustainability), it is that there isn't enough time, and that is money in of itself. We do all their work for them."
SDSU PowerSave also cooperates with Associated Students and other environmentally minded groups on campus.
"Kristian Salgado is our (PowerSave) representative," A.S. Green Love sustainability commissioner of Green Love Associated Students and sustainability senior Jordan Wells said.
Green Love brings together environmentally minded students from CALPIRG Energy Service Corps, Enviro-Business Society and PowerSave to lead all their efforts in the same direction.
"We can get to all these different outlets and reach so many more people than we would," Wells said.
Geography Professor and doctoral program adviser Fernando Bosco said the best time to get involved in sustainability is at the university level. Bosco also said not to be discouraged from contributing to the environmental cause.
"People are always afraid of the tragedy of the commons," Bosco said. "The notion that why would I do this good, if nobody else will do it? I think about it the other way. I think If I do my part then maybe somebody else is too, and it will become part of something more collective."
According to Saldago, SDSU PowerSave Program's ongoing projects are:
Hosting the second annual Green Speed Networking Event on Thursday, Nov. 7, at 6 p.m. At Mission Trails Regional Park.
Tabling at Water Supply in San Diego County event on Oct. 30 from 4 p.m. to 5:30 p.m at the Parma Payne Goodall Alumni Center.
Photo by Monica Linzmeier, Photo Editor