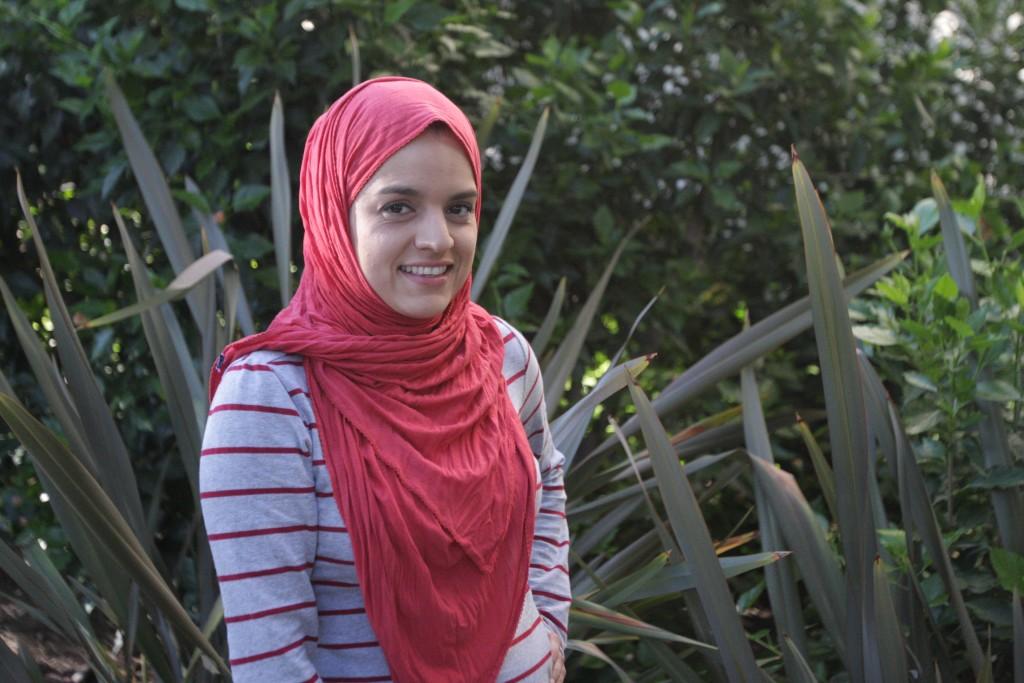 Nursing senior Amanda Goforth met fellow nursing and classical languages senior Maria Estrada during the first days of nursing school. Soon after, Goforth realized Estrada's undocumented status created a stressor that added to the already arduous and demanding major nursing is.
"Some of us have lighter baggage than others, and Maria's was heavy," Goforth said.
Estrada, who came to the U.S. from Mexico with her family at 3 years old, has carried a heavy load for a while. But a weight was taken off her shoulders when she was approved for Deferred Action for Childhood Arrivals on June 4.
DACA, which began on Aug. 15, 2012, allows immigrants who came to the U.S. as children, and who currently meet several guidelines, to be exempt from deportation for two years, subject to renewal, and grants them work permits and a Social Security number.
Growing up, Estrada was unaware of what her undocumented status meant until she was 8 years old, when a border patrol bust took place in the East County apartment complex her family lived in. Estrada recalls hearing helicopters and border patrol agents requesting through a megaphone that undocumented residents come out. This prompted her family to lock the doors and turn off the lights.
Her family was safe, but Estrada began to see herself as different from everyone else.
"Already you start thinking, 'I'm a criminal, I need to hide, I need to live under the shadows, I can't tell people my identity,'" Estrada said.
Estrada has come a long way since she adopted that mentality.
"I thought I had committed a crime. It's now that I'm older that I realize I haven't committed a crime. Not only am I not committing a crime, but I'm an American and I contribute to this society," Estrada said.
Estrada opened up about being undocumented last semester after the DREAM Act failed to pass Congress in 2010.
In the past, Estrada, who had been admitted into the San Diego State School of Nursing after applying a second time, was asked to give up her spot because she was undocumented. She turned to professors and advocates for help and was allowed to continue in the program. In March, Estrada was denied financial aid because her mother didn't file for taxes.
Family and friends offered Estrada money, but she instead decided to host a fundraiser and attract the attention of local media organizations. She saw it as an opportunity to bring awareness to the issue and named the fundraiser "Support Me, Don't Deport Me."
Estrada was granted financial aid after her mother filed taxes with the tax identification number she was granted, and Estrada then paid for her mother's taxes with the money she had raised through the fundraiser.
Similar to previous programs, DACA's approval process wasn't easy.
The first time Estrada applied for the DACA program, her application was returned because she had filed incorrectly. She applied a second time after saving money to hire a legal attorney to assist her and for the $465 application fee. However, Estrada had a more worrisome hurdle to overcome throughout the process—the fact that she had converted to Islam in 2010.
Estrada was exposed to Islam after working with Students for Justice in Palestine at SDSU. The sense of community and peace had attracted her.
Estrada said she could relate because Muslims, like undocumented immigrants, often get labeled as "not wanted." She was reminded of this when she met with her attorney to discuss her case for DACA.
Estrada recalls being told, "You need to take that off your head. You need to take off that scarf. Not only are you undocumented, you're also Muslim. Already you're going to be a target."
Her work with refugees and immigrant communities would also be a barrier, and Estrada feared they would deny her case. She faced a dilemma. On one side the attorneys were asking her to compromise her religious beliefs. On the other, her family depended on her approval for DACA.
"So I took off my scarf," Estrada said. "I wasn't public about being Muslim because I was afraid, again."
Although it took two weeks for U.S. Citizenship and Immigration Services to review her case the first time she applied, the second time took five months because of the increase in the number of individuals applying.
Since she was approved for DACA, Estrada's possibilities have expanded. Most notably, she is now protected from deportation, and can apply for employment and a driver's license. If not for DACA, Estrada wouldn't be able to take the licensing test in nursing after graduating or practice as a nurse.
The biggest challenge for Estrada since her approval has been changing the mindset that had told her certain things weren't possible because of her status, such as traveling or owning a home.
"It's been a mental challenge," Estrada said. "To mentally aspire for more than I have. That's the biggest challenge—to dream."
Estrada's own experiences make her understanding of the refugees and immigrants she works with.
"When I have a patient, I'm not checking (whether) they're from the U.S., documented (or) undocumented," Estrada said.
Estrada added that she asks herself, "who needs the help the most?"
"When you sit down with someone and they're telling you of their struggles and how far they've gotten and all the help that they do, it doesn't become of numbers or legal statuses," Estrada said.
Goforth said having Estrada as a friend has been "a good life lesson."
"She's had to go through hurdles that people who have their citizenship don't even know exist," Goforth said. "Her energy, her drive; it makes you feel more empowered to press forward."
Photo by Jenna Mackey.