New pizza joint delivers quality and variety in a jiffy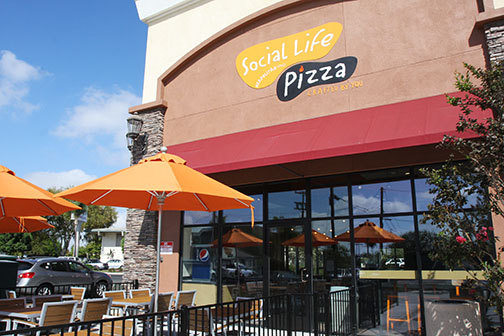 In 90 seconds, you can update your Facebook status, watch three commercials in between reruns of "Breaking Bad" or microwave a slice of bacon to crispy perfection. In 90 seconds, you can also be served a piping hot Neapolitan pizza fresh from the oven.
For patrons of Social Life Pizza, 90 seconds is all it takes for their food to be fired up in the oven and ready to devour. The restaurant, which opened last month, features a preparation process similar to Subway with the class and authenticity of a quaint pizza joint found on the streets of Italy. Giving diners the ability to build their own unique creation, Social Life Pizza offers a haven for those whose taste buds crave experimentation. With more than 40 toppings, the possibilities are endless.
Beginning in assembly line fashion, the pizza dough is hand-rolled, then assembled to the customer's exact specifications. Guests are allowed to add as many toppings as they like with nothing extra added to the bill. They can then see their pizza being cooked in the restaurant's brick Forno oven, which reaches temperatures up to 900 degrees.  The process is complete within a matter of minutes, and hungry individuals can satisfy their appetites.
The staple of Social Life Pizza is the Neapolitan pie, known for its iconic thin and chewy crust with slight charring. All of the ingredients are fresh, guaranteeing the customer the best taste possible. Many of them are imported from Italy, the birthplace of pizza itself.  At the pizza's foundation is the Italian double zero flour from premier flour miller San Felice, with four basic ingredients and no preservatives. The savory and flavorful sauce is comprised of San Marzano tomatoes from Naples, while the extra virgin olive oil hails from Northern Italy. Other highlights include balls of mozzarella cheese that are pulled apart by hand, dried oregano from Calabria and sea salt from the Mediterranean Sea. The result is a 12-inch pizza big enough for two coming in at less than $10, a value that easily fits within the average college student's budget.
Among the classic varieties of the Neapolitan pizza are the Margherita, the Marinara "Tomato Pie" and the Blanco.  The menu also includes specialty pizzas such as the Carne, a hearty assortment of pepperoni, sausage and salami. For those with dietary restrictions, gluten-free crust is also available.  For a well-rounded meal, browse the salad bar or add a few mouthwatering meatballs to your plate. Craving dessert? Try the Cinn-O'Sweet Pizza or the Italian favorite, the Cannoli Pizza, with its blend of sweet ricotta cheese, an artful drizzle of chocolate sauce and a dusting of powdered sugar. Garnished with Maraschino cherries, each bite will surely have you licking your fingers and reaching for more.
The ingenious blending of flavors that embody the recipes is developed by owner and CEO Joe DeSantis, whose Italian family history includes more than 55 years in the pizzeria business. For the man behind this developing restaurant chain, knowing what makes the perfect slice is second nature.
"I've always had a very sharp taste for quality in food and I can sense ingredients by smell and taste," DeSantis said. "When I'm working with the ingredients, I spend a lot of time researching them."
Beginning his own venture in the industry with what was first known as Pizza Pete's and then the more glamorous L.A. Italian Kitchen, DeSantis brings his Los Angeles roots to San Diego, a location he says is one of the leading places for food and drink.
"This is a great area for new development and a new type of culture and people looking for new food experiences," he said.
For Social Life Pizza, this brings about an adventurous clientele who are looking beyond the standard pepperoni or cheese. With unlimited toppings on a single pizza, it certainly gives patrons an opportunity to be creative.
"We like the fact that customers are now elevating their tastes," DeSantis said. "They want more flavor, they want more boldness in their food—they want to experience something more authentic."
Most notably, Social Life Pizza brings a small town feel to its bustling San Diego locale. From its warm and inviting atmosphere adorned with wood-paneled furniture and vibrant orange accents to its friendly and accommodating staff, diners are sure to feel right at home. With a bar area that includes 10 craft beers and five wines, the eatery has something for everyone.
As the name suggests, the idea behind Social Life Pizza is one of being connected to friends and family by sharing a delicious meal. The inspiration for the concept, however, came about from DeSantis taking a cue from his own heritage and recognizing that eating pizza is a true occasion.
"Pizza is a very social product," he said. "It's a celebration. For Italians, food is life."
With this idea in mind, Social Life Pizza is always looking for ways to reach out to the community. Appropriately, they have established a presence on Facebook, Twitter and Instagram.  The restaurant recently held a free pizza night, and is working to sponsor a fundraiser for the San Diego chapter of the Make-a-Wish Foundation. Weekly specials for select beers include half-off prices on Mondays for "Kill the Keg Night" and for "Social Hour" Tuesdays through Thursdays from 4-6 p.m.
For a complete menu and more information, check out www.sociallifepizza.com
Photos by Jenna Mackey, Staff Photographer