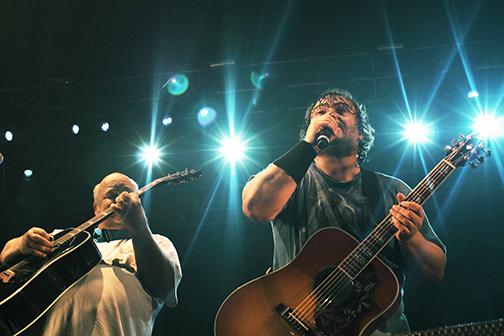 There have been many comedy music festivals in the past, yet nothing has been quite as ambitious as Festival Supreme. Tenacious D came up with the idea to create its own unique event with big names, and the result was a sold-out hit.
Festival Supreme was a one-day hullabaloo that took place at the Santa Monica Pier on four different stages. Omega Stage Supreme and The Mighty Tent were primarily focused on big humorous music acts such as Eric Idle & The Jeff Davis Experience, Craig Robinson & The Nasty Delicious and The Gregory Brothers. The stage Club Intimacy revolved more around stand-up comedians, including Patton Oswalt, Sarah Silverman and the headliner at San Diego State's Aztec Nights-Comedy Explosion 2013, Hannibal Buress.
The fourth spot was Neil Hamburger's One Man Tent, where the offbeat jester told a single joke to an individual person for 30 seconds. I would've gone, but the line was so long that it would have taken away too much time from the other festivities.
Though the stars were all on their A game, there were three that rocked the pier the most. Triumph the Insult Comic Dog was a riot, singing a painfully hilarious R-rated song about cats and a biting ditty entitled "Nobody Sucks" where he took plenty of shots at different celebrities.
Adam Sandler was awesome crooning some of his classic tunes, with titles that generally can't be quoted in this paper. I respect his bravery for poking fun at popular actors and his own career in an original Halloween edition of "The 12 Days of Christmas."
Watching Tenacious D members Jack Black and Kyle Gass steal the show was an unforgettably surreal experience. At Festival Supreme, the crowd did not treat it as comic musicians, but as Rock and Roll Hall of Fame legends. Musically, it was the most impressive, as the band jammed like crazy while earning laughs.
As the master of ceremonies, Black was quite the host. He seemed to be having the time of his life getting the audience fired up for bands and sometimes randomly appearing throughout the jamboree.
Featuring numerous surprise guests including Conan O' Brien, The Lonely Island, Steve Jones and Billy Idol, Festival Supreme lived up to its cool title. Thanks, Tenacious D, for making this righteous evening possible.
Also Read: Say a big hello to 'The Last Goodbye'
Photo courtesy of Alec Strickland